Telangana and Andhra Pradesh have jointly topped the ease of doing business ranking with a score of 98.78 per cent while Gujarat, the former number one, has slipped to the third position, the Union Ministry of Commerce and Industry said in a statement on Monday.
The index also puts Jharkhand (7th), Rajasthan (8th), Uttarakhand (9th) and Maharashtra (10) in the top ten. It is based on degree of implementation of the DIPP's 340-point Business Reform Action Plan (BRAP) which includes 58 regulatory processes, policies, practices, or procedures spread across 10 reform areas spanning the lifecycle of a typical business, covering the period July 1, 2015 to June 30, 2016.
Watch what else is making news
To attract investments, and make it easy to set up business, the Telangana Government had introduced the Telangana State-Industrial Project Approval and Self Certification System (TS-iPASS) which gives clearance to industrial projects within a fortnight.
The industrial policy launched by Telangana chief minister K Chandrashekar Rao's allows self-certifications. Anyone seeking to set up business does not have to run around for approvals.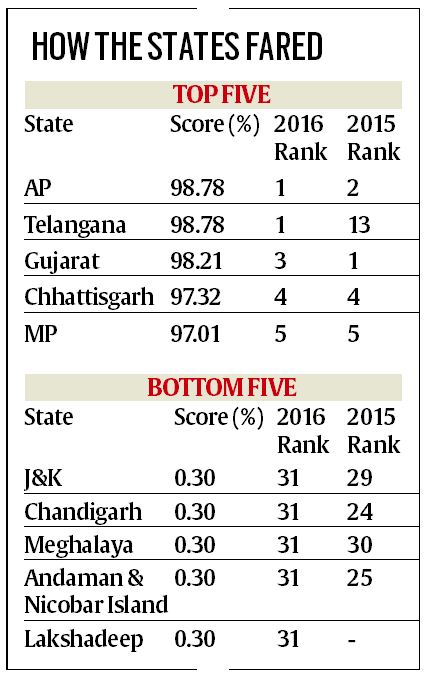 "You can come and start your enterprise as long as you obey the law of the land. The state government takes a maximum of fifteen days, as per law, to revert with an approval. If not, on the sixteenth day, it is deemed approved. In Telangana, if we don't deliver, we are liable for penal action,'' says IT minister K T Rama Rao.
In Andhra Pradesh, chief minister N Chandrababu Naidu introduced a similar policy. AP's Industrial Policy-2015-20 assures clearances within 21 days through a single desk clearance system after which it is deemed approved based on self-certification. AP's policy also gives spot approvals for identified enterprises and clearances; exemptions from seeking approvals for investments in certain category of industries; assignment of Inspection to Private Technical Experts; State Investment Promotion
Board (SIPB) and Empowered Committee of Secretaries for expediting decision making.
The data for this assessment was collected from state governments on the BRAP portal, which allowed states to submit evidence of implemented reforms. At least 32 state and UT governments submitted evidence of implementation of 7,124 reforms.
"These submissions were reviewed by the World Bank team and validated by DIPP's (Department of Industrial Policy and Promotion) team to study whether they met the objectives of the BRAP. The portal allowed for collaborative dialogue between DIPP and the state governments in finalising the evidence submitted. A total of 6,069 reforms were approved as implemented or not applicable on the portal," the commerce ministry said.
The results of the assessment show that states are trying to make it easier to do business. The national implementation average stands at 48.93 per cent, significantly higher than last year's national average of 32 per cent.
States including Andhra Pradesh, Chhattisgarh, Gujarat, Haryana, Jharkhand, Madhya Pradesh, Maharashtra, Punjab, Rajasthan, Telangana, Uttarakhand have created a dedicated body/bureau as a one-stop system for state level regulatory and fiscal incentive approvals.
The online single window system has a provision for filing applications, payment, status tracking, online scrutiny and approval of applications.
A series of tax reforms making mandatory online registration and return filing have also been carried out by the states including Bihar, Chhattisgarh, Gujarat, Karnataka, Madhya Pradesh, Maharashtra, Odisha, Punjab, Rajasthan, Uttar Pradesh, Uttarakhand, West Bengal. States have also implemented advanced automated solutions to deal with environmental and pollution related applications and approvals.
Many states have allowed applicants to apply online and upload building plans for automated construction permit approval, while several states have developed systems that automatically scan building plans and monitor compliance with the building bye-laws and building codes in force.
The Centre has divided states into four categories based on the implementation of reforms. States, which have implemented 90-100 per cent of the reforms, have been categorised as Leaders. Leader states include Andhra Pradesh, Telangana, Gujarat, Madhya Pradesh and Punjab.
Aspiring Leaders are states implementing 70-90 per cent of the reforms including Karnataka, Uttar Pradesh, Tamil Nadu and Delhi. Himachal Pradesh, Tamil Nadu and Delhi are states having implemented 40-70 per cent of the reforms and are among the Acceleration Required category.
17 states and UTs such as Kerala, Goa, Tripura, Chandigarh and Puducherry are in the Jump Start Needed category, having implemented only 0-40 per cent of the reforms.