The first two days of e-way bill system for inter-state movement of goods remained glitch free with about 2.89 lakh e-way bills generated on Monday (till 1500 IST). On the first day of the rollout, about 2.59 lakh e-way bills were generated, a finance ministry statement said.
Finance secretary Hasmukh Adhia said it has been a "very successful rollout so far". "No glitch at all… at this rate, we will be able to, as per the declared timetable, bring for intra-state also," Adhia said. A total of 11.18 lakh taxpayers have registered on the e-way bill portal till date. In addition, 20,057 transporters have registered on the e-way bill portal, the statement said.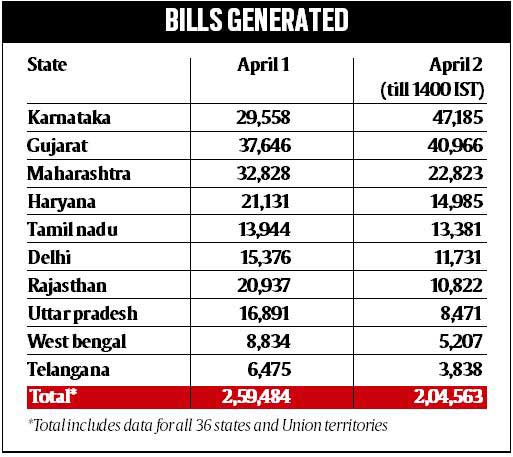 Adhia said people will take some time to adjust to the system and over a period the authorities will start checking the trucks, adding that there is penalty provision for those who do not generate the bills. "We have been getting demand from honest tax paying class to bring in the bill. Otherwise, there is a wholesale transfer of goods which is not bill paid and there is a lot of evasion and they (honest taxpayers) are at a disadvantage. We hope others will fall in line and generate the bill. If they don't do it, there is a penalty provision," Adhia said.