At a time when the demonetisation exercise has started impacting the economy, foreign portfolio investors (FPI) have pulled out over Rs 56,000 crore from Indian debt and equity markets since last month, casting a big shadow over the investor sentiment.
Foreign players have taken out Rs 18,244 crore from the equity segment and Rs 21,152 crore from the debt markets, pulling out a total of Rs 39,396 crore in November. In December till date, foreign investors have withdrawn Rs 17,637 crore from the debt market. However, the selling in equity seems to have abated with net inflows of Rs 473 crore in the current month so far. While the FPI pullout of Rs 56,561 crore since November is largely in anticipation of a rate hike by the US Federal Reserve, demonetisation of Rs 500 and Rs 1,000 notes has also weighed on the sentiment.
"The selling in India is comparable to emerging markets selling. From our discussions it has emerged that this has been done keeping in mind long term prospects. However, if the impact of demonetisation persists for more than three to six months then it may be a cause for worry for investors," said Gautam Chhaochharia, head of India Research at UBS Securities India Pvt Ltd. The result of the US presidential elections was eagerly awaited by the financial markets. After Donald Trump beat Hillary Clinton to the presidential seat, equity markets witnessed selling pressure. Anticipating protectionist policies by Trump, most of the emerging markets suffered losses. US bond yields rose sharply and the dollar strengthened against other currencies. With the US GDP on an upswing, it is almost certain that the US central bank will increase interest rates in December. The rise in rates in the US can lead to selloff in emerging market equities.
Watch What Else is Making News
"We are positive on the Indian market. We believe, when compared to Asia Pacific it will outperform in the next one year. The selling by foreign institutional investors (FIIs) and FPIs can be attributed to broader context of outflow from emerging markets and expectation of a Fed rate hike. The impact of demonetisation in India is minor compared to other reasons for selling by FIIs," said Vivek R Misra, strategist- Asian Equities, Global Research & Strategy at Societe Generale.
The markets managed to avoid a big selloff largely due to buying by domestic institutions. "FIIs were major sellers during the month, selling stocks worth $2.6 billion. For the 11 months of the year so far, FIIs have purchased stocks worth $4.15 billion. FIIs' selling was offset by domestic institutions (DIIs), who bought equities worth $2.7 billion during the month. Among DIIs, mutual funds were the major buyers, accounting for purchases of $ 1.9 billion. On a year-to-date basis, domestic institutions have invested $ 4.1 billion," Tul Kumar, head, Equity Funds, Quantum, said.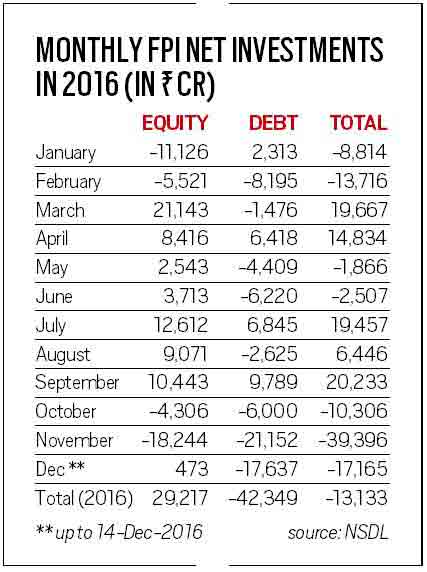 However, the Indian rupee depreciated by 2.4 per cent during the month against the US Dollar. Most of the other developed markets are witnessing economic stagnation. There has also been rhetoric of protectionism in large parts of the world, as can be seen by many election results. This is likely to hurt global trade, which itself hasn't taken off since the global financial crisis.
As India is set to witness a slowdown in the near-term due to demonetisation, foreign investors are likely to go for a re-rating of Indian markets. "All the activity data we have available for the period post November 8 suggests that things are weaker on the ground. Not surprising, given effective cash in circulation has contracted 60 per cent over the last month. We expect GDP to grow 5 per cent in the current quarter and 6 per cent in the next, before it gradually normalises towards the 7 per cent ballpark," said HSBC chief India Economist Pranjul Bhandari.
In November 2016, the S&P BSE Sensex fell by 4.56 per cent on total return basis. Mid-cap and small-cap stocks, which were doing quite well earlier, registered greater decline during the month. S&P BSE Mid Cap Index fell 6.68 per cent, while Small Cap Index dropped 8.32 per cent during the month.