Over the past three days, Tata group companies have taken a beating at the bourses on account of the turmoil in the top management of Tata Sons after Cyrus Mistry was removed from the position of chairman on Monday.
Though Ratan Tata made a re-entry as the interim chairman of the company, it has failed to arrest the slide in the share price of group companies, thanks to the events which have unfolded since Mistry's ouster.
WATCH VIDEO: Following Cyrus Mistry's Ouster, Tata Group To Shortlist Candidates For Next Chairman
While the fall continued on Thursday following revelations by Cyrus Mistry in a five-page letter to the board of Tata Sons on Wednesday, market experts say that there is nothing new in the disclosures relating to individual companies and there is no reason for retail investors to worry about their investments in Tata firms.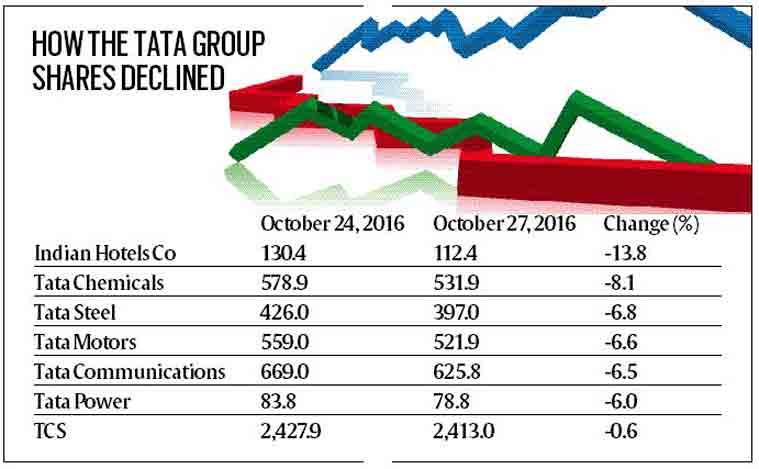 "The outlook for Tata group companies does not change because of his letter and retail investors should not be worried because of the disclosures made by Cyrus Mistry in his letter as almost everything is already known. Also, all the companies are well run and operate independently so this issue at the holding company level will not impact the day to day business," said Raamdeo Agrawal, joint MD at Motilal Oswal Financial Services.
He further added that the group is competitive, has strong cash flows and the integrity levels remain very high. Some feel that TCS and JLR of Tata Motors generate cash flows of around Rs 35,000 crore every year and that is good enough for the write-downs.
Over the last three days, shares of leading Tata group companies have fallen by up to 14 per cent. While Indian Hotels has fallen the most by 13.8 per cent over the past three trading sessions, Tata Steel and Tata Motors have witnessed a share price decline of 6.8 per cent and 6.7 per cent, respectively. Tata Communications and Tata Power too lost 6.5 per cent and 6 per cent, respectively in the three days. Tata Consultancy Services, however, remained much stable and witnessed a marginal dip of 0.6 per cent.
Agrawal, however, added that what is disturbing is the manner in which the boardroom tussle is out in the open. "Everyone knows about the stress in Tata Steel's European arm; the adverse commodity cycle; issues related to DoCoMo and Tata Teleservices and challenges faced by other group companies. I think, though the way things are coming out is not good."
Meanwhile, in a report released on Thursday, Edelweiss Securities maintained a 'buy' call on Tata Motors and said that the company has a strong product pipeline (JLR), higher capacities and favourable currency which equip the company to counter potential discounting pressures.
In his letter to board members of Tata Sons and Tata Trusts on Wednesday, Mistry hit out at the Tata group and questioned the corporate governance practices and operations of various group companies, investments, fraudulent transactions and a possible write down of Rs 118,000 crore. In his mail he also listed various omissions and commissions of group firms, including Ratan Tata, which he inherited four years ago.
Hitting out at Ratan Tata's pet car project 'Nano', Mistry said Nano product development concept called for a car below Rs 1 lakh, but the costs were always above this and said that it consistently lost money, peaking at Rs 1,000 crore. He further said that as there is no line of sight to profitability for the Nano, any turnaround strategy for the company requires to shut it down. "Emotional reasons alone have kept us away from this crucial decision," Mistry wrote.
In the hotel business of the group, Mistry pointed at the flawed international strategy and also questioned the acquisition of Searock property at highly inflated price. He said: "In the process of unravelling this legacy, Indian Hotels has had to write down nearly its entire networth over the past three years. This impairs its ability to pay dividends," the letter added.
On Thursday, the fall in share prices continued. While Indian hotels fell 5.3 per cent, Tata Steel and Tata Motors fell by 0.4 and 1.4 per cent, respectively.