Written by
Pranav Mukul
| New Delhi |
Updated: July 26, 2018 8:18:41 am
The funding pattern of 15 of India's biggest e-commerce and technology start-ups, which have together raised close to $20 billion in the last ten years, have seen a lion's share of the investment come in from 10 major investors — Softbank, Tiger Global, Sequoia Capital, Bessemer Venture Partners, Nexus Venture Partners, DST Global, Alibaba, SAIF Partners, Foxconn and Tencent Holdings — indicating a significant overlap in shareholding by a handful of financiers. Notably, all of these investors are from outside India.
Softbank, Tiger Global and Tencent — three key investors in Flipkart — have also funded several other Indian start-ups. Flipkart is in process of being acquired by Walmart, which will see most of its investors, including the Softbank, exit their investment.
Softbank has also invested in Flipkart's rival Snapdeal, fintech firm Paytm, taxi-hailing app Ola, hotel aggregator Oyo Rooms, e-grocery app Grofers and messaging app Hike among the list of top 15 start-ups analysed by The Indian Express. This gives Softbank the highest exposure among other investors to Indian unicorns, or start-ups with over $1 billion valuation .
US-based Tiger Global, too, has invested in a number of unicorns. Apart from Flipkart, the PE firm has funded e-commerce company Shopclues, online marketplace Quikr, Ola, Hike and Grofers. Similarly, China's Tencent Holdings, in addition to Flipkart, has invested in healthcare start-up Practo, education tech firm Byju's, Ola and Hike. The other major investor is VC fund Sequoia Capital, which has funded seven of the 15 in the list. These are Snapdeal, Zomato, Ola, Practo, Oyo Rooms, Grofers and Byju's.
Read | Part 1: Quest for easy capital to scale ops makes new-age firms cede control to foreign investors
Chinese e-commerce giant Alibaba, along with its payments affiliate Ant Financial, has placed bets on firms like Paytm, Zomato, Snapdeal and online food and grocery store BigBasket. SAIF Partners, which is one of the initial backers of Paytm, has also funded online food delivery platform Swiggy and Urbanclap, a platform connecting customers to professional services.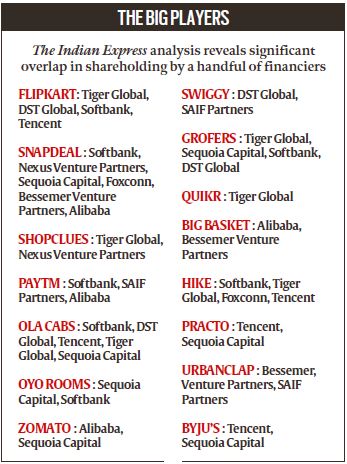 Hong Kong-headquartered DST Global, along with its founder Yuri Milner's personal investment vehicle, has backed Flipkart, Ola, Swiggy and Grofers. Other investors include Bessemer Venture Partners, which has funded Snapdeal, BigBasket and Urbanclap; and Nexus Venture Partners, which has invested in Snapdeal and Shopclues.
Most of these firms and funds, by the virtue of being unlisted, do not publicly disclose the financial details such as fund-raising amounts and their valuations. This information has also been taken from reported sources in cases where official company communication on an investment round was not made. Also, investors tend to join in while funding a venture in a particular funding round, with the result that details regarding individual investments by investors in a funding round are generally not available.
With domestic investors deeming traditional conventional instruments such as real estate, mutual funds and equities to be safer investment bets than start-ups, global financiers have lapped up the lion's share of investment in consumer technology upstarts apart from the bigger names too. In 2017 alone, information sourced from research firm Venture Intelligence, investments from overseas PE and VC firms investing from their global or Asia-based funds in Indian start-ups increased to $16,728 million in 2017 against $8,497 million in 2016, a growth of almost 96 per cent.
Sunil Goyal, managing director of angel fund YourNest said that in India there are only about 2,000-3,000 angel funds betting on around 500 start-ups every year, against 3 lakh angel funds investing in 60,000 start-ups a year in the US. "Opportunities are large, but since the asset class is new, people are a bit averse. They are still used to investing in real estate. Mutual funds, equities have done well and people are able to keep their funds liquid in these instruments. Traditional options are still mainline, while alternate investment avenues are yet to catch the fancy of domestic investors," he said, explaining why Indian investors have thus far shied away from homegrown start-ups.
Clarifications & corrections — The report titled 'Quest for easy capital to scale ops makes new-age firms cede control to foreign investors' published in The Sunday Express edition of July 22 and a subsequent report titled '10 major names dominate lion's share of investment' published in The Indian Express edition of July 23 referred to venture capital fund DST Global as a Russian company. DST Global has clarified that it is not headquartered in Russia and does not have offices in Russia. The fund is headquartered in Hong Kong. The error is regretted.
📣 The Indian Express is now on Telegram. Click here to join our channel (@indianexpress) and stay updated with the latest headlines
For all the latest Business News, download Indian Express App.