IT was Diwali two days in advance for several grocery stores and customers in the city. Departmental stores across Mumbai had a special display Monday, right on their entry gate in bold letters: "We are back", "Maggi is back". By the end of the day, several small-time grocery shop owners admitted their entire stock had been sold out once the word spread in the locality.
In a special rollout, Nestlé, apart from re-launching Maggi noodles back into the market, also tied up with online portal Snapdeal to register requests for home delivery of Maggi noodles starting Tuesday. "We will start taking orders from Tuesday. But delivery will be made after Diwali," a Nestlé spokesperson told The Indian Express.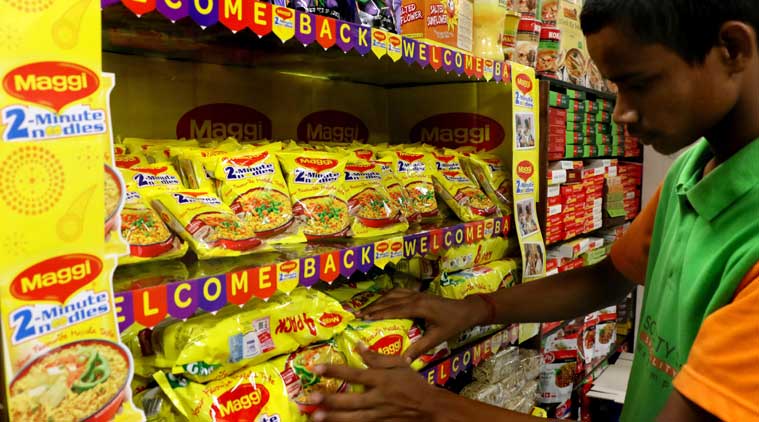 Devilal Gayeri, Manager of Roman supermarket on Yari Road in Versova, said he noticed a palpable excitement among the customers when they spotted Maggi back on the shelves. "We have already sold 15 to 20 packets. The word will spread to the entire area now," he said.
Gayeri added that he had been receiving queries from regular customers frequently about the anticipated relaunch date of Maggi. "While we did manage to sell other brands when Maggi was banned, our sales dropped significantly," he said. At his store, the maximum packets were purchased by kids on Monday.
At Society Stores, Lokhandwala, three cartons of Maggi noodles were ordered (288 packets). By 8.00 pm, less than a dozen were left. "We realised that people have been tracking the launch date of Maggi. Everyone who visited the store purchased a packet today," said Manan Gade, who sits at the counter.
The store had made special arrangements to launch the noodles. "We had decorated the shelf with stickers. Posters with "We are back" were put every where," Gade added.
While some shops managed to procure the product on the first day of its relaunch, several stores were asked to wait due to high demand. At departmental chains such as Big Bazaar and Star Bazaar the product was yet to hit the shelves. "We placed an order for all our stores in Mumbai. But the delivery will come on November 16," said Suresh, from Great Home stores, Andheri West. According to him, several small shops in his area are waiting for Maggi's delivery. "A lot of people have inquired about the noodles in the last few days," Suresh admitted.
Maggi noodles is presently being manufactured at three locations — Nanjangud (Karnataka), Moga (Punjab) and Bicholim (Goa). For the other two locations at Tahliwal and Pantnagar, Nestlé is engaging with authorities to obtain permissions to initiate manufacture. "We will make our best endeavor to reach the product to our consumers at the earliest. We are in touch with our channel partners and distributors to achieve this," a release from the company said.
"The return of Maggi Noodles on the auspicious occasion of Deepawali and on the day of Dhanteras is a moment of celebration for all of us… On behalf of over 7,000 Nestlé India employees, I would like to thank all our suppliers, distributors, retailers, and millions of consumers from every corner of India and overseas for their support," said Suresh Narayanan, Chairman and Managing Director, Nestlé India.
Meanwhile, the Food and Drug Administration (FDA) is set to routinely test samples of Maggi noodles once they hit the entire market in a few days. "We will continue the routine procedure of testing packaged food items to check for any contravention as per Food Safety and Standards, Act. In this case, if any norm is flouted, we can send another notice to Maggi," said Dr Harshdeep Kamble, FDA commissioner.
Last month, Nestlé received clearance from three laboratories, as per the Bombay High Court's directive, for safety of its noodles. The laboratory test was conducted to check whether excessive lead was still present in its noodles. The product was banned earlier this year after excessive lead and monosodium glutamate, a flavour enhancer, was found in it.
"Most states do not have a ban on the sale of Maggi Noodles. For States where specific directions are required, we are engaging with them," a statement from the Nestlé said.
tabassum.barnagarwala@expressindia.com
📣 The Indian Express is now on Telegram. Click here to join our channel (@indianexpress) and stay updated with the latest headlines
For all the latest Business News, download Indian Express App.
The Indian Express website has been rated GREEN for its credibility and trustworthiness by Newsguard, a global service that rates news sources for their journalistic standards.