Written by Malyaban Ghosh | New Delhi |
April 19, 2016 3:17:15 pm
Air India is expected to report an operating profit of Rs 8-10 crore in FY 16, the first since the erstwhile Indian Airlines was merged with it in 2007, a senior executive confirmed to FE. Consequently, the state-run carrier's losses would be limited to around Rs 2,600-2,800 crore, significantly lower than in FY15 when they were Rs 5,574.47 crore.
"This is the first year since the merger that we will make a small operating profit," the executive observed, adding that the airline is looking to add flights both on international and domestic routes. Air India's revenues for FY 16, however, are expected to remain flat since yields on both domestic and international routes have fallen following lower ticket prices. In FY15, Air India reported revenues of R19,781 crore and an operating loss of Rs 2,171.40 crore.
"We have seen a 9-10% drop in yields although there has been an increase in the passenger load factor," the executive said. He added that the current year could see a rise in revenues of 10% since capacity would increase.
[related-post]
The reduced losses are the result of the sharp drop in fuel prices, which have fallen by close to 56% since March 2014. Moreover, the full-service airline has also utilised its aircraft more efficiently. While wide-bodied aircraft now fly 13 hours a day, the narrow-bodied Airbus aircraft fly around 11 hours a day. Moreover, better planning is allowing Air India to operate more flights on different routes without adding to the fleet.
Air India hopes to bring down its net losses to less than Rs 2,000 crore in FY17, enabling the carrier to turn cash positive in FY17-18. That's a good two years ahead of the timeline targeted in the turnaround plan that was approved in April 2012.
The turnaround plan envisages an equity infusion by the government of Rs 30,231 crore of which Rs 22,280 crore has been infused. The 2016-17 Budget saw Air India getting an allocation of Rs 1,713 crore as part of the plan against the airline's demand of Rs 4,300 crore.
According to the some senior executives, the airline expects to earn Rs 2.5 crore each from the sale and lease-back of nine Dreamliner aircraft from American aircraft manufacturer Boeing. The deal is supposed to be completed in the next few months. After the delivery of the Dreamliner aircraft, Air India is expected to increase flights to places like Singapore, Nairobi, Dar-e-Salaam, Madrid, Barcelona and Stockholm. Later this year — July 4 or August 15 — Air India is expected to start its first direct flight between New Delhi and Washington. The national carrier will receive the delivery of 10 ATR 72 aircraft in the current fiscal year, which will help the airline expand on domestic routes to tier 3 and 4 cities like Bhavnagar, Nashik, Hubli and Jabalpur.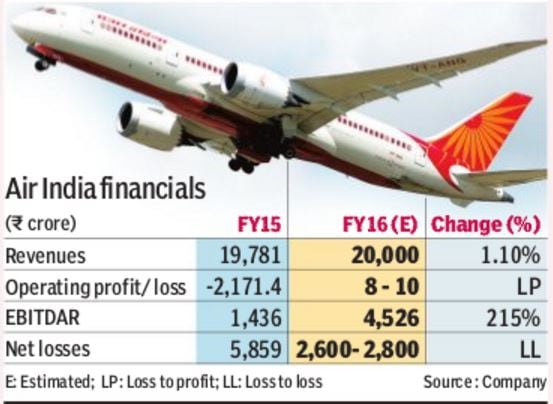 This story first appeared in The Financial Express.
Read it here.
The Indian Express website has been rated GREEN for its credibility and trustworthiness by Newsguard, a global service that rates news sources for their journalistic standards.