By:
ENS Economic Bureau
| Amitabh Sinha & Debabrata Mohantynew Delhi, New Delhi |
Updated: February 16, 2016 5:47:58 am
After rising for the last four months, wholesale price index (WPI)-based inflation rate contracted to – 0.9 per cent in January on account of lower prices of food articles, especially vegetables and pulses. The WPI inflation rate, however, continued to remain in the deflationary zone for the fifteenth straight month.
Wholesale inflation rate was -0.73 per cent in December and -0.95 per cent in January last year. The November WPI inflation has been revised to -2.04 per cent from the provisional estimate of – 1.99 per cent. Food inflation eased to 6.02 per cent in January from 8.17 per cent in December, with vegetables inflation at 12.52 per cent in January against 20.56 per cent a month ago.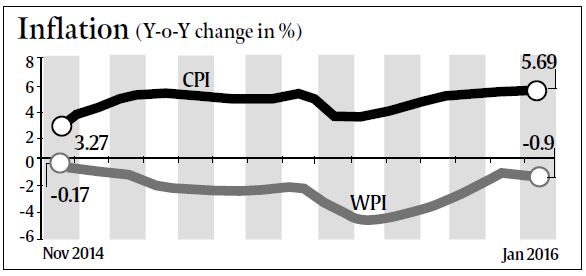 "The January 2016 WPI inflation is in line with our expectations. We anticipate that WPI inflation will print a tad below zero in February 2016 barring a sizable uptick in crude oil prices in the rest of this month," ICRA's senior economist Aditi Nayar said.
According to data released by commerce ministry, inflation in pulses moderated to 44.91 per cent in January from 55.64 per cent a month ago, while that of onions eased to 5.51 per cent from 25.98 per cent.
Inflation rate for potato was -17.08 per cent in January against -34.99 per cent in December, while for eggs, meat and fish it was 5.69 per cent. Inflation in the fuel and power segment was -9.21 per cent, while for manufactured products, it was -1.17 per cent in January
"If sustained, the underlying trends in today's WPI food inflation augur well for generalized food price inflation in the near-term. The overall trajectory for future WPI inflation readings, however, is expected higher, as the favorable statistical effect hitherto supporting the fuel and core inflation readings gradually wears off and domestic activity picks up gradually. We expect the WPI print to eventually trend up to +1-2 per cent by mid-2016," a report by Yes Bank said.
The fall in wholesale prices inflation is in divergence with the rise in retail inflation for January. Consumer Price Index (combined)-based inflation rose to a 17-month high of 5.69 per cent in January.
📣 The Indian Express is now on Telegram. Click here to join our channel (@indianexpress) and stay updated with the latest headlines
For all the latest Business News, download Indian Express App.