Amid rise in investor sentiment, expectation of reforms and pick up in the industrial activity and economic growth following the clear mandate to one party in the General Elections, the benchmark Sensex at the BSE rose by 25 per cent in 2014-15, thereby capping its best show since 2009-10.
This came on the back of a strong participation by foreign institutional investors (FIIs), domestic institutions and retail investors. On Tuesday, the Sensex closed at 27,957 witnessing a marginal fall of 18 points. The broader Nifty at the National Stock Exchange, too, closed flat at 8,491.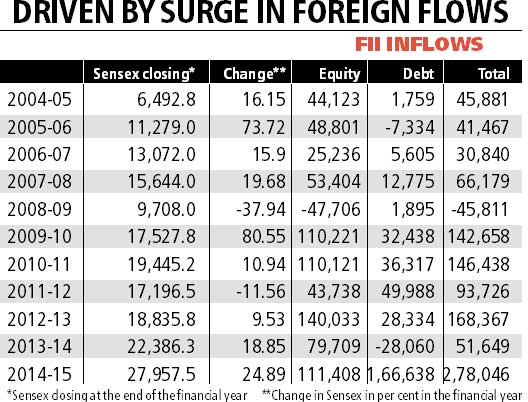 The mid-cap and small-cap indices rose even more as the BSE mid cap and the small cap indices rose by 50 and 51 per cent respectively during the year. In terms of milestones, the Sensex broke several of them in 2014-15. While it hit a new high of 29,681.8, it breached 7 milestones in 12 months rising from over 22,000 in April 2014 to hit 29,000 in January 2015.
While FIIs, with a net inflow of Rs 1,11,408 crore, were at the centre of the strong performance of the equities market, retail investors, too, came in large numbers to participate in the rising Indian markets. Net investment from investors into mutual funds over the 11-month period between April 2014 and February 2015 stood at Rs 61,089 crore, which is the highest ever in a financial year.
Also, with expectations of further strengthening of the economy, FIIs entered into Indian debt market in big numbers to capitalise on high interest income available in the country. During the year net FII inflows into the debt markets stood at Rs 1,66,638 crore, which is the highest ever and more than three times the previous high of Rs 49,988 crore witnessed in the year 2011-12.
The aggregate FII inflow into equities and debt stood at Rs 2,78,046 crore which is 65 per cent more than the previous high of Rs 1,68,367 crore witnessed in the year 2012-13.