The Centre has called a meeting of state ministers on Friday to hammer out short- and long-term solutions to battle increase in prices of vegetables, especially onion and potato.
But a careful analysis of the trends in retail prices of key vegetables show that price rise in summer is the norm for all of them.
Since May 1, 2014, there has been a jump between 6 per cent and 50 per cent in potato prices in five cities — Jammu, Ahmedabad, Kolkata, Hyderabad and Bangalore.
But, as the chart shows, last year this jump was reserved for tomatoes. During the corresponding period in 2013, potato prices remained flat. Onion prices have jumped between 25 per cent and 100 per cent, with the minimum rise reported in Jammu and the highest in Kolkata. Conversely, potato prices have risen the most in Jammu and the least in Kolkata, showing that these jumps are based on local factors than any endemic shortage.
Last year, tomato prices in summer rose 500 per cent in Kolkata and 171 per cent in Hyderabad . Year-on-year, the price rise has turned negative in these two cities. However, in Bangalore, tomato prices have risen by 50 per cent.
Prices of wheat and rice, which have centralised procurement, are, however, stable across the country.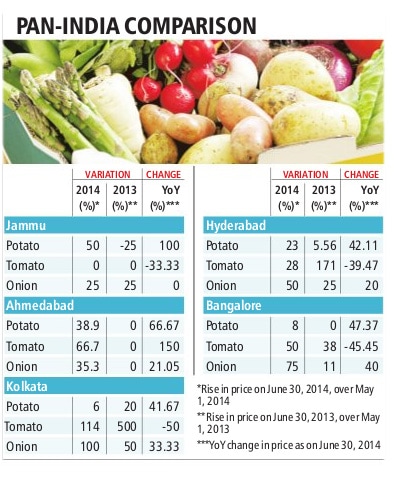 Reflecting the short-term concerns, the agenda paper for the ministerial-level meeting notes: "The prices of some of the commodities, especially onion and potato, are a matter of concern. It is very urgent to discuss the measures to be taken to address the issue. Steps to prevent hoarding of these commodities and plans for distribution of specific essential items through public channels and improving other supply channels will be discussed in the meeting."
Noting the concern finance minister Arun Jaitley accepted the mounting pressures but assured there is enough stock of food grains, "Our challenges are compounding with uncertain monsoon and Iraq crisis …. We have huge amount of food grains, so no concern on that side."
The Indian Express, tracking data across major consumption centres of pan-Indian vegetables, found that potato prices are up between 41 per cent and 100 per cent and that of onions is higher by up to 40 per cent. But year-on-year, while the price rise is highest in Jammu at 100 per cent, it is 42 per cent in Kolkata.
The prices soften as monsoon spreads across the country. The Friday meeting with the state food ministers will be chaired by Jaitley and attended by agriculture minister Radha Mohan Singh and minister for consumer affairs Ram Vilas Paswan.
In a letter to chief secretaries of states, consumer affairs secretary Keshav Desiraju has said, "Action need to be taken to eliminate any hitches in the supply chain and to ensure an uninterrupted supply of onion so that the scope for speculation in eliminated and the general public are not subjected to any hardship because of price rise."
With inputs from correspondents in Mumbai, Jammu, Lucknow, Patna, Kochi and Dehradun.
Jaitley for fiscal prudence over mindless spending, populism
About a week before presenting his first Budget, finance minister Arun Jaitley, at an event organised by Institute of Chartered Accountants of India, spoke about his concerns and the immediate challenges the government faces:
* "Improved CAD is the only silver lining"
It may mean that measures imposed earlier to rein in gold imports may be relaxed.
* "Fiscal deficit is a major challenge"
Keeping it to 4.5 per cent of the GDP for FY14 and 3.1 per cent for FY15 will be difficult
* "Rate of inflation is beyond acceptable limit, uncertain monsoon, Iraq crisis big challenges"
Measures to address the supply-side issues to bring down food inflation.
* "Lack of stable tax regime dissuades investors"
Retrospective amendments may be done away with while clarity is likely to be brought on indirect transfers.
* "Country needs to make conscious choices through informed debates"
This is an indication that the rail fare hikes may stay put.
* "Choice has to be made between fiscal prudence and mindless spending and populism"
Sops like debt waiver are unlikely, subsidies to go down.
* "Mindless populism burdens exchequer, leads to high taxes"
* "Doors will be open for sectors which need investment, provide employment"
FDI in sectors like defence and e-commerce may be allowed soon
* "To retain investors, government has to be supportive, taxation has to be reasonable
* "Willing to look at certain recent legislation but business has to realise that free trade means fair trade"
New Companies Act may be amended to address investor concerns