Can you use a tablet with one hand? For most tablets,the answer is no,especially for long periods. Chinese manufacturer Lenovo is attempting to change that perception with a cylindrical metal grip on one side that lets users hold the tablet easily.
Lenovo's Yoga moniker is no longer reserved for ultrabooks that can be bent backwards. The Chinese manufacturer,which recently said it has moved from being a PC maker to a PC-plus company,has brought the Yoga brand name to two unconventional tablets. Lenovo Yoga Tablet comes in two screen sizes. The 8-inch variant costs Rs 22,999,while the 10-inch model costs Rs 28,999. We reviewed the 8-inch Yoga Tablet,so read on to find out if the tablet is worth buying.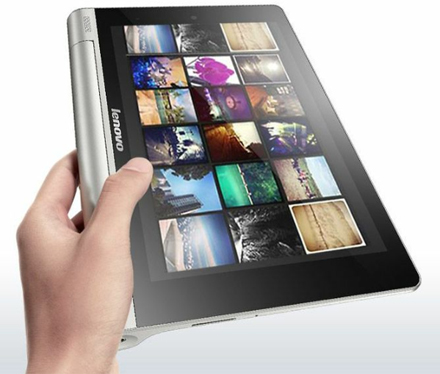 Design
Before venturing into the tablet's build,it is best to take a look at what is new. In a tablet market full of lookalikes,Lenovo Yoga Tablet stands out for its unique design. The tube grip on one edge of the tablet makes it easy to hold. Twisting the tube reveals a tiny stand,which is by far the most innovative addition to a tablet. If you have ever used an iPad with Apple's smart cover,you would know how much the typing experience improves after you fold the cover into a triangle to raise one edge of the iPad. The stand on the Yoga Tablet lets you do the same thing without paying around Rs 4,000 more,unlike the iPad. But at 401 grams,the tablet is too heavy for one-hand use.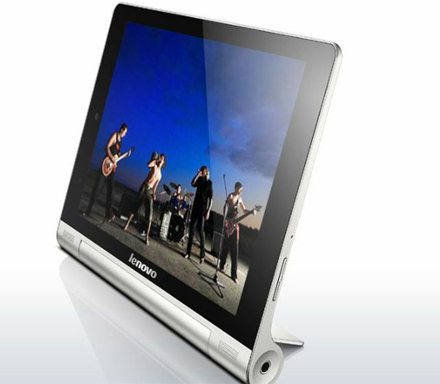 Users can also use the stand to prop up the tablet. This,along with the front-facing speakers and Dolby sound,make watching films enjoyable on the Yoga Tablet. The only gripe is that the speakers were not loud enough for noisy places,but are good for watching films at home. Holding a tablet in your hand while watching films is cumbersome for various reasons such as aching or sweating hands,and the device's rising temperature,especially during summers. The stand eliminates that irksome experience altogether.
Lenovo is known for making sturdy devices,as evident with the company's rugged ThinkPad laptops,and the Yoga Tablet is no exception. The back panel of the tablet is made of metal and so is the tube grip. This gives the tablet a sturdy feel.
The placement of the power button is unconventional – at one end of the tube grip – but it's easy to find once users get used to the device.
Performance
Lenovo's practical approach to the tablet's design was encouraging,but the display is far from the best. Yoga Tablet 8's pricing pits it squarely against last year's iPad Mini and the display is just a shade inferior when compared to Apple's device. However,those looking to buy the 10-inch Yoga Tablet can get a much better display on the iPad Mini Retina (Rs 28,900). Those used to Retina display will find it very hard to accept the lower resolution screen on the Yoga Tablet. However,that is a compromise users will have to live with at this price point.
Yoga Tablet runs Android 4.2.2,but Lenovo has customised the OS. The app drawer has been removed entirely,which means that you will not have to tap a button to view a list of apps. All your apps are on the home screen by default,just like the layout in Apple's iOS. One area where the software differs from iOS is that you can place widgets on the home screen. I did not like Lenovo's customisations since stock Android feels much smoother and refined. There is no point trying to change the interface if the company cannot improve user experience. A slight lag was noticed when swiping between home screens,especially when many widgets were placed on one of the home screens.
For a mid-range tablet,the device performed as expected. This tablet is capable of running most games,but don't buy it if you want to play heavy games,such as Real Racing 3,all day. As with most tablets,the Yoga Tablet's camera is poor.
Android and excellent battery life are rarely seen in the same sentence. Earlier this year,Lenovo's P780 smartphone proved that stereotype wrong,although the phone was a little too bulky for most people. With the Yoga Tablet,Lenovo has given users excellent battery life in a sleek form factor. The secret – the tube grip houses its battery. It lasted around 10-11 hours on moderate to heavy usage.
Should you buy it?
Yes,it's good enough for most Indian users,especially since it supports 3G and voice calls. Yoga Tablet deserves credit for excellent ergonomics and battery life – two basic features that every tablet should perfect. However,buyers will have to live with Yoga Tablet's low-resolution display and the dearth of excellent tablet-optimised apps on Android. Most people would want to install a custom launcher (such as Nova Launcher) to get rid of Lenovo's poor software customisation.
Price: Rs 22,999+
Rating: ****