Despite a series of steps to contain non-performing assets (NPAs), public sector banks (PSBs) wrote off a record Rs 81,683 crore worth of bad loans in the financial year ended March 2017, a jump of more than 41 per cent over the previous year's write-off amount of Rs 57,586 crore, as per the finance ministry data.
Even as the amount of loans written off has been rising steadily in the past five years, their combined profitability deteriorated sharply during the same period, as NPAs spiked and the Reserve Bank of India (RBI)-mandated asset quality review forced them to make higher disclosures of non-performing loans.
In contrast to the write off amount of Rs 27,231 crore in 2012-13, when banks earned combined net profit of Rs 45,849 crore, the amount of loans written off in 2016-17 trebled to Rs 81,683 crore and the banks combined profits were a Rs 474 crore. Banks have written off a total of Rs 2.46 lakh crore worth of loans in the last five years, the finance ministry data show.
In the past couple of years, PSBs incurred combined net losses of over Rs 19,529 crore, even as the government capital infusion during these two years, at Rs 47,915 crore, was the highest in the last decade. The gross NPA of banks has risen to 9.6 per cent (of total advances) in March 2017, from 9.2 per cent in September 2016, as per the RBI data. The stressed advances ratio declined marginally from 12.3 per cent to 12 per cent due to fall in restructured standard advances, especially in agriculture, services and retail sectors, the data showed.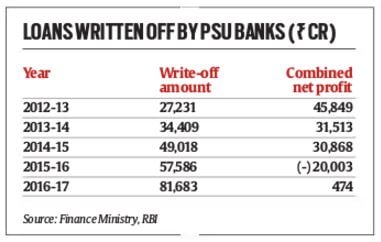 In order to contain NPAs and consequential write-offs, the finance ministry took a series of measures in the past 2-3 years, including asking banks to agree to operating performance norms for getting capital, amending the loan recovery laws, merging associate banks with the parent State Bank of India, among others.
The government last year enacted the Insolvency and Bankruptcy Code (IBC) and earlier this year empowered the RBI to direct banks to initiate insolvency proceedings against large loan defaulters. The RBI has recently directed banks to refer 12 large NPA cases for resolution under the IBC. The 12 troubled companies being referred to NCLT under the RBI directive — including Jyoti Structures, Bhushan Steel, Monnet Ispat and Electrosteel Steels, Amtek Auto and Era Infra Engineering among others — account for a combined debt of around Rs 2.5 lakh crore.
As regards the non-performing accounts other than the large 12 cases, an RBI committee suggested that banks should be required to file for insolvency proceedings under the IBC for these accounts in case banks are unable to agree upon a viable resolution plan within six months. While these measures are expected to contain NPAs in the medium term, banks will have to take a hit on their profitability resulting from loan settlement on account of initiation of corporate insolvency resolution for large defaulters. As per a recent analysis by rating agency Crisil, banks are likely to take a haircut of 60 per cent, worth Rs 2.40 lakh crore, to settle 50 large stressed assets with debt of Rs 4 lakh crore.