Written by
Udit Misra
| New Delhi |
Updated: October 7, 2015 10:31:21 am
A study by the International Institute for Sustainable Development (IISD) states that the government's claims of savings due to a shift towards direct benefit transfer (DBT) for LPG (also called PAHAL) are "large overestimates". IISD has shown that as against the publicly touted figure of Rs12,700 crore of savings for the financial year 2014-15, the actual savings cannot exceed Rs 143 crore, or just 1.12 per cent of the claimed number.
"Our calculations suggest that the savings from DBTL in the last fiscal year are likely to be large overestimates. It is important that precise savings figures are presented by the government so that an accurate appraisal of DBTL as a policy can be made. This is especially important as DBT is now being considered as a way to deliver kerosene and food subsidies," said Kieran Clarke, one of the three co-authors of the study, who is based in Geneva.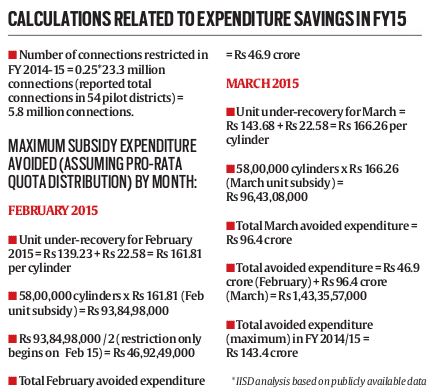 Since there is no official document that provides a clear estimates of the savings made by the shift, IISD chose the Rs12,700 crore number because it was being repeatedly attributed, by a direct quote, to chief economic adviser Arvind Subramanian. The Indian Express has reviewed several news stories in Indian media that back up IISD's claim. These include reports in The Indian Express as well. For instance, a news story that was published on July 3 in The Indian Express carried the following quote: "Based on sales and subsidy levels for 2014-15, savings of Rs 12,700 crore are estimated from DBT in LPG," said Arvind Subramanian, chief economic adviser to the finance ministry on Thursday at a UNDP conference, adding that savings this fiscal are estimated at Rs 6,500 crore due to the lower crude oil prices.'
[related-post]
However, when contacted, Subramanian directed this writer to a New York Times article that he had written alongside Siddharth George, who is an economist in the Ministry of Finance. However, later, in an emailed reply, in which Subramanian was also copied, George clarified that Rs 12,700 crore was not the savings for 2014-15. "The Rs 12,700 crore figure does not pertain to FY14-15 … We obviously do not know exactly how much absolute consumption will be this year — that depends on market prices and other factors. But we can say that based on last year's total consumption, the savings would have been 24 per cent of total consumption or about 12,700 crore," he said.
The NDA initially reintroduced DBT for LPG in 54 districts in mid-November 2014, with nationwide roll out to all districts from January 2015. The UPA government had first introduced the programme, and later suspended it in February 2014.
Since April 1, 2015, India's cooking gas subsidies are being distributed solely by electronic transfer through DBTL. IISD states that it is the largest unconditional cash transfer programme in history.
Under the DBTL, which has replaced the direct sale of cooking gas cylinders at subsidised prices, households place an order for LPG with their gas distributor, receive an amount equivalent to the current subsidy amount via electronic transfer to their bank account, then pay the full unsubsidised price for the cylinder in cash on collection or delivery.
IISD study states that "assuming programme implementation on the basis formally announced, the theoretical maximum reduction in subsidy expenditure directly attributable to DBTL in FY 2014-15 can therefore be roughly calculated by applying the initial reduction in subsidised consumption (reported as 25 per cent) to the total potential consumption available to existing connections (reported as 23.3 million), then applying the relevant data on monthly under-recoveries and fiscal subsidy to calculate the estimated 'avoided' expenditure figure."
According to IISD, households possessing LPG connections were given three months from the initial introduction of the scheme in their district to register their bank account details for direct payment, during which time they were still able to purchase subsidised cylinders within their quota. Following this period, households, could purchase only non-subsidised domestic cylinders. However for a further period of three months the equivalent per cylinder subsidy would be recorded and released to the consumer upon DBTL registration.
It is important to note that for a period of seven and a half months — from April 1, 2014 to November 15, 2014 — the scheme had no direct effect on total subsidy expenditure. "DBTL only began to formally restrict access to subsidised LPG for non DBTL-registered households in mid-February 2015, and then only in the 54 districts selected in Phase 1 (representing 8 per cent of total districts). In the remaining Phase 2 districts (constituting 92 per cent of total districts), non-registered households retained formal access to directly subsidised LPG until March 31st 2015."
Reetika Khera, professor at IIT Delhi, is not surprised to hear that government could have been overstating the savings. "There has been no serious analysis of the benefits and cost of the UID project. Three recent studies suggest that the government has been overstating the benefits and hiding costs (in terms of disruption)."
On October 2, a study commissioned by the Andhra Pradesh government, conducted by the Society for Social Audit, Accountability and Transparency (SSAAT) found that over half of those who did not lift their rations in May 2015 reported reasons related to the use of Aadhaar: either fingerprint recognition failed, Aadhaar numbers mismatched or there was a malfunction in the E-PoS machine. IISD's Clarke agrees with the claims that DBTL has done little to enhance access of LPG for poor and vulnerable consumers. "It (DBTL) also doesn't tackle the significant administrative hurdles faced by the poor to gaining registered LPG connections, and therefore LPG subsidies."
The massive anomaly in government's claims comes to light just as Supreme Court is scheduled to decide on the use of UID for PDS on October 7.
The Indian Express website has been rated GREEN for its credibility and trustworthiness by Newsguard, a global service that rates news sources for their journalistic standards.