Even though retail inflation in the country has started receding, inter-state price variations have been significant for all sub-groups of food inflation. During the April-July 2016 period, Telangana and Andhra Pradesh were the worst-affected states while Himachal Pradesh was the least affected from food inflation, according to Reserve Bank of India (RBI) data for the four-month period.
Data for a broader timeline of August 2015 to August 2016, shows pulses and spices have been the highest contributors of inflation in the food and beverages category of CPI inflation. Prices of sugar and confectionery items increased sharply in April 2016, after remaining subdued for the previous eight months. Cereals, milk and milk products, fruits have been among the lowest contributors during August 2015-August 2016. Vegetables also posted moderate inflation in the one year since August 2015, except for three months of May, June and July, when vegetables prices shot up ahead of post-monsoon fresh crop arrivals in the markets.
Watch what else is making news
During April-July 2016, Telangana was clearly the most affected state from persistently high food inflation, featuring in the highest inflation category in seven out of 10 sub-groups such as pulses, fruits, spices, eggs, cereals and sugar during the four-month period. Andhra Pradesh came in a close second, featuring in five out of the 10 sub-groups for the highest food inflation based on Consumer Price Index (Combined).
The worst impact of the rise in prices of pulses, which have consistently been among the highest contributors of CPI inflation since mid-2015, was seen in Chhattisgarh and Telangana. While the average pulses inflation during April-July 2016 stood at 39.2 per cent in Chhattisgarh, it was 37.6 per cent in Telangana, followed by 37.4 per cent in Uttar Pradesh. The lowest pulses inflation was seen in West Bengal, where it averaged 13.9 per cent during the same period.
The average inflation of spices in Telangana was recorded at 15.4 per cent, the highest among all states. For fruits inflation also, Telangana topped the list with 13.1 per cent average inflation during the first four months of this financial year. The lowest average spices inflation was seen in Assam at 1.4 per cent, while Himachal Pradesh recorded the lowest average fruits inflation of (-)0.8 per cent. In fact, Himachal Pradesh has been the least affected from food inflation, featuring in the lowest inflation category in six out of 10 sub-groups of food inflation.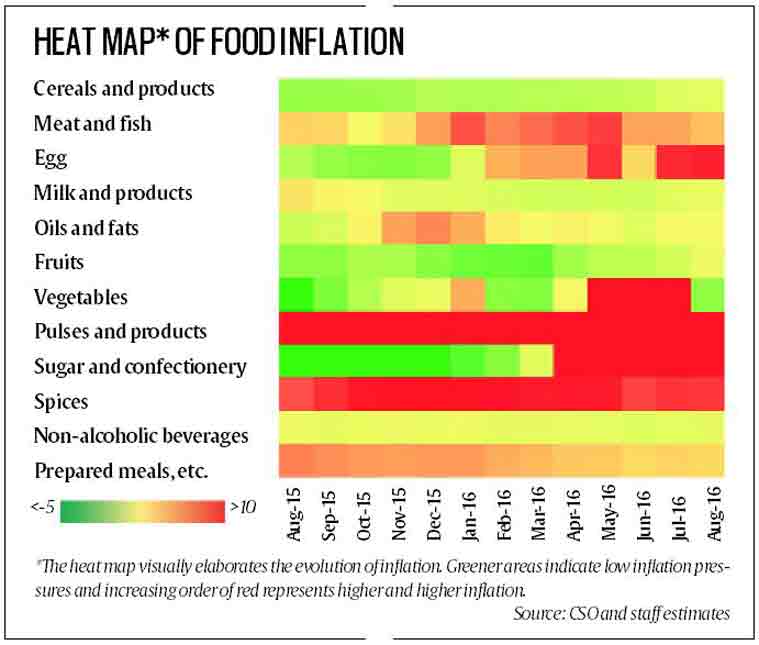 Demand-supply mismatch is one of the primary reasons for high pulses prices in the country, especially for the most-affected states of Chhattisgarh, Telangana and Andhra Pradesh. Pulses production in Telangana in this kharif season accounted for 10 per cent of the total cropped area, while in Andhra Pradesh they were grown in 11 per cent of the total cropped area in the state. Government estimates for Chhattisgarh are not available for this kharif season.
RBI in its Monetary Policy Report for October 2016 even emphasised that food supply management strategies need to be informed by the spatial dynamics of inflation. "Pulses inflation, which averaged 30 per cent across the country, was relatively low at around 13 per cent in Assam and West Bengal. These wide variations across states appear to be complemented by rising inter-state divergence in the case of items like eggs, oils and fats, spices and sugar. This calls for integrating fragmented agricultural markets in the country, if food supply management policies have to be effective," it said.
Inflation in the food and beverages group, with a weight of 46 per cent, rose steadily through April to July. Though there has been a sharp correction in prices since August, the food group contributed 59 per cent to average headline CPI Inflation during April-August, with price pressures mainly emanating from pulses, sugar and vegetables.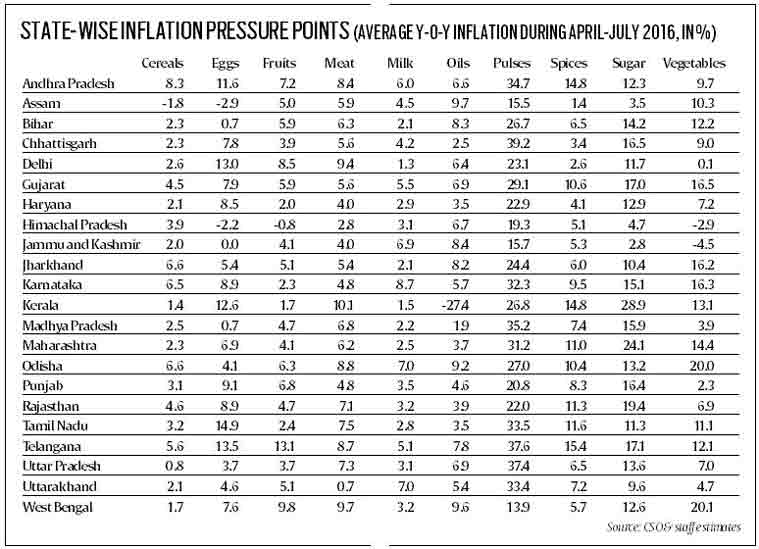 Pulses have been the major source of food inflation since mid-2015, accounting for around 12-20 per cent of overall inflation due to lower production on the back of two years of consecutive droughts. "The production of pulses declined from 19.3 million tonnes in 2013-14 to 16.5 million tonnes in 2015-16 and the widening of the demand-supply imbalances elevated pulse prices unconscionably. As a consequence, pulses accounted for 22 per cent of food Inflation and 13 per cent of overall Inflation during April-August, despite a relatively low weight of 2.4 per cent in CPI. Excluding pulses, average food inflation would have been lower by 1.2 percentage points and average headline inflation by 0.6 percentage points during this period," the RBI had said in its report.
The government has taken several measures to deal with structural demand-supply imbalances that have resulted in stickiness in pulses inflation. The RBI believes that food inflation could ease by around 35 bps by January-March 2016-17 and around 100 bps by January March 2017-18, if the efforts of government are able to bring down the prices of pulses on a sustained basis. As a result, through a process of relative price adjustments, overall inflation could moderate by 15 bps in January-March 2016-17 and 50 bps by January-March 2017-18.
Sugar has emerged as the second major driver of food inflation during April-September 2016-17, remaining in double digits since April. Prices rose despite adequate supplies, though they are expected to moderate by October with the start of cane crushing and release of fresh stocks in market.
Historically, domestic supply shocks along with firmer global crude oil prices led to an uptick in inflation during April-July, while aggregate demand along with continuing pass-through of past monetary policy tightening worked towards tempering inflation pressures, RBI said. Also, the sharp decline in vegetables inflation helped food inflation to ease in August and September after rising in April-July. Vegetables inflation sharply declined to (-)7.21 per cent in September from 1.02 per cent in August and 14.06 per cent in July. Going ahead, food inflation is expected to moderate further as kharif crop arrives in markets. The sub-group of food and beverages has already recorded a steady decline in last two months, with inflation for the category falling to 4.12 per cent in September from 5.83 per cent in August and 7.96 per cent in July.