Fiat Group Automobiles India Private Ltd (FGAIPL) on Wednesday introduced its entry-level sedan car,Fiat Linea Classic,in India at the starting price of Rs 5.99 lakh.
The car is available in three variants — 1.4 L petrol classic at Rs 5.99 lakh,1.3 L Multi-Jet Classic at Rs 6.96 lakh and 1.3 L Multi-jet Classic+ at Rs 7.51 lakh.
The new Fiat Linea will go up against other sedans in the the segment including Maruti Suzuki India Swift Dzire and Honda Amaze,which are priced at Rs 4.99 lakh-Rs 6.71 lakh and Rs 4.92 lakh-Rs 6.44 lakh respectively.
The company said the sedan has the longest length and largest wheelbase among the specific price segment.
The Linea Classic petrol is powered by the same 1.4-litre engine as in the current Linea model. Available in five colours,the car has 5 litre boot space. The sedan also features hydraulic power steering,programmable speed limit buzzer,dual parabola headlamps and fire prevention systems.
Fiat also has presence in the premium hatchback segment with its Punto range.
The car maker said the company's aim is to target the segment,which grew by 15 per cent this year till August even under sluggish conditions in the auto sector.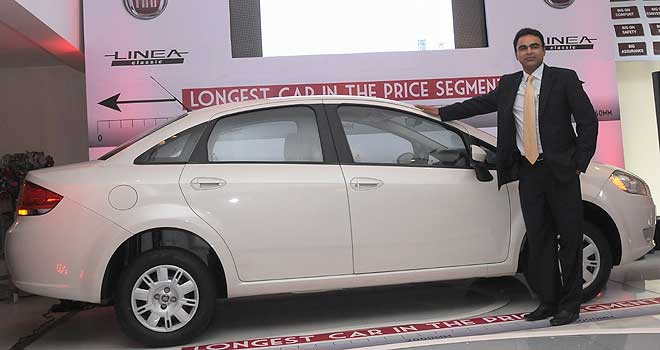 Speaking on the occasion,Nagesh Basavanhalli,president and managing director,Fiat Chrysler India,"We have launched the Linea Classic,which will give consumers the luxuries of a sedan at the price range of a hatchback."
Fiat Chrysler India,a joint venture between Fiat Group and Chrysler,has recently announced that it would launch nine models country-wide in the next three years.
Fiat started to independently distribute its own vehicles from April. Earlier,it was selling its products through Tata Motors' network for which it had entered into a 50:50 JV with the Tata Motors.