Written by Reuters | Mumbai |
Published: November 19, 2013 3:57:53 pm
In choppy trade,the BSE Sensex today climbed for the third straight day and ended 40.08 points higher at a nearly two-week high buoyed by gains in Infosys,SBI and Maruti Suzuki shares,amid sustained strength in the Indian rupee against US dollar.
Markets Top Gainers,Markets Top Losers
After gaining 656 points in previous two sessions,the Sensex gained 40.08 points,or 0.19 per cent,to end at 20,890.82 led by stocks of realty,capital goods and banking sectors. The index closed at 20,894.94 on November 6.
In the 30-scrip Sensex,Hindalco and Jindal Steel led the 14 gainers. SBI and Maruti gained over 3 per cent each. 15 counters led by Sesa-Sterlite,HDFC Bank and Coal India declined. Tata Power ended flat.
On similar lines,the broad-based NSE Nifty rose by 14.35 points,or 0.23 per cent,to close at 6,203.35,after touching 6,212.40 intra-day. Also,SX-40 index of MCX-SX closed 34.80 points up at 12,401.4.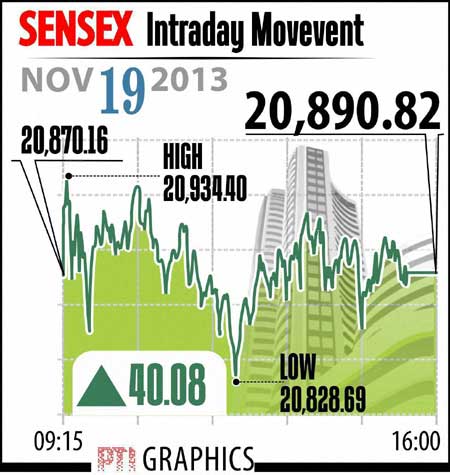 Brokers said steady capital inflows as rupee strengthened against the dollar and reports of higher earnings by some bluechips,mainly helped the domestic market extend gains.
Quote: Multi Commodity Exchange of India Ltd (MCX)
The rupee appreciated to touch 61.87 versus dollar intra-day. Globally,the US dollar traded weak against major rivals ahead of Fed chief Ben Bernanke's speech at National Economists Club in Washington later today.
Analysts hope Bernanke would speak in favour of keeping the USD 85 billion a month stimulus intact like New York Fed chief William Dudley and Federal Reserve chief nominee Janet Yellen did recently. Also,the release of FOMC minutes is expected on Wednesday.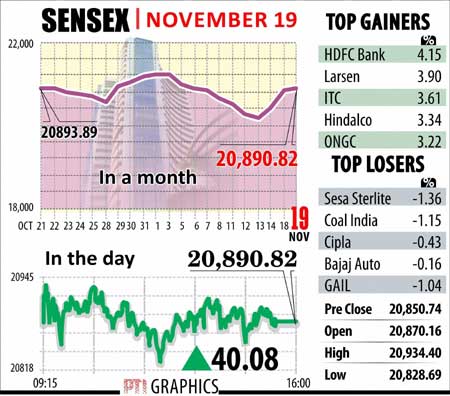 Sectorally,the BSE Realty sector index gained the most by rising 1.51 per cent,followed by Capital goods index (up 1.28 per cent),TECK index (0.46 per cent) and Banking index (0.35 per cent). IT index gained 0.28 per cent on Infosys scrip gaining 1.3 per cent.
HIGHLIGHTS
* BSE index gains 0.19 pct; NSE ends 0.23 pct higher
* Jet Airways gains; chairman Goyal sells partial stake
* Financial Tech surges on unit's deal to sell SMX stake
BSE Sensex rises 40 points to end at two-week high
(Reuters) Indian shares rose for a third consecutive session on Tuesday to their highest closing levels in nearly two weeks,as a rally in debt markets boosted banks,the biggest holders of bonds,while sentiment remained underpinned by global factors.
The prospect of extended stimulus in the United States and signs of ambitious reforms in China have spurred a rally this week in Asian shares.
Overseas institutional investors are heading towards their third straight month of buying in Indian cash shares,totalling more than $5 billion since August,regulatory data showed.
Traders say with the results season coming to an end,the market will focus on how developments on the global front and state elections will impact foreign fund flows. "The new (incoming) Fed chairperson hinted that quantitative easing may not stop for a while. Along with that China has announced reform plans that are bringing dollars back into Asia," said Shrinivas Viswanath,co-founder of RKSV Securities,referring to testimony from U.S. Fed chairman nominee Janet Yellen last week.
"Hopefully,we can convince FIIs that our reform plans,those announced and upcoming,are good reasons to continue investing in India," Viswanath added.
The benchmark BSE index rose 0.19 percent,or 40.08 points,to end at 20,890.82,marking its highest close since Nov. 6.
The broader NSE index rose 0.23 percent,or 14.35 points,to end at 6,203.35,marking its third consecutive session of gains.
Banks rose on the back of a rally in debt markets,which benefited from a stronger rupee and the introduction of a new benchmark 10-year bond this week. Banks benefit from higher debt prices given that they are the biggest holders of government bonds.
State Bank of India Ltd rose 3.2 percent,while ICICI Bank Ltd ended 1.1 percent higher. Metal shares gained after China unwrapped its boldest set of economic and social reforms in nearly three decades on Friday.
Jindal Steel And Power Ltd gained 4.2 percent,while Hindalco Industries Ltd ended 4.4 percent higher.
Financial Technologies (India) Ltd rose 2 percent,adding to Monday's 20 percent gains,after the company said its unit will sell its stake in SMX to ICE Singapore Holdings Pte Ltd for $150 million.
Jet Airways (India) Ltd gained 2.9 percent after Tail Winds Ltd,a private investment arm owned by the carrier's promoter and chairman Naresh Goyal,sold about 7.9 percent of its 75 percent holding in Jet for around 2.10 billion rupees ($33.6 million) on Monday.
Indiabulls Real Estate Ltd gained 3.1 percent on widespread market speculation that the company was considering a share buyback,according to traders.
However,among stocks that fell,state-run Power Grid Corp of India dropped 1.4 percent on share-supply fears ahead of its sale of shares. The share sale,valued at about $1.2 billion,is likely to open on Dec. 3.
FACTORS TO WATCH
* Dollar falls on Fed view,euro up before German ZEW
* Brent slips to near $108 ahead of Iran nuclear talks
* Investor caution halts share rally,dollar softens
* Foreign institutional investor flows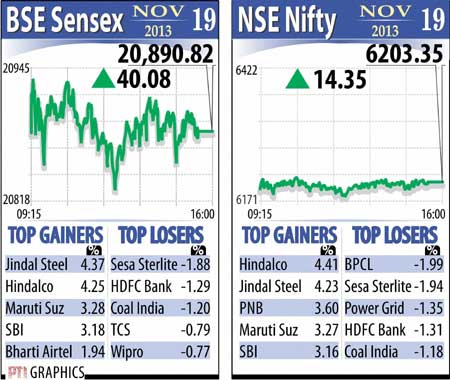 For all the latest Business News, download Indian Express App