New Delhi |
February 7, 2014 6:14:56 pm
It's just the second day of Auto Expo 2014 and premium car makers have taken everybody by storm. A look at some of the new launches from major car makers who are on an overdrive at the expo:
Maruti launches Celerio at Rs 4.96 lakh
Aimed at strengthening its compact car segment position, Maruti Suzuki India on Thursday launched the Celerio, priced between Rs 3.9 lakh and Rs 4.96 lakh (ex-showroom Delhi). "Given the congestion on Indian roads, the demand for auto mode is no brainer. Presently, cars with automatic transmission are less than 5%," MD and CEO Kenichi Ayukawa said. The manual transmission models (four) are priced between R3.9 lakh and Rs 4.96 lakh, while the auto gear shift variants (two) are priced at R4.29 lakh and R4.59 lakh (ex-showroom Delhi). Celerio Auto Gear Shift variants will have the flexibility of both manual mode and auto drive mode in the same car.
Toyota unveils crossover Etios Cross
Toyota Kirloskar Motor on Thursday unveiled its first crossover, New Etios Cross, targetting young customers. Available in 1.5 and 1.2 litre petrol engines and a 1.4 litre diesel engine, the crossover would be launched in May this year but the company has already started taking bookings. The price of the model will be revealed in May. Crossover vehicles are built on a car platform but combines some of features of a SUV. TKM deputy MD Sandeep Singh said it would cost more than the Etios Liva series. Etios Liva models are available in the range of Rs 4.23-Rs 7.12 lakh (ex-showroom, Delhi). The new model will expand the Etios series with existing models – the Etios, the Liva and the Liva 1.5 TRD Sportivo.
Mahindra Reva showcases electric sports car Halo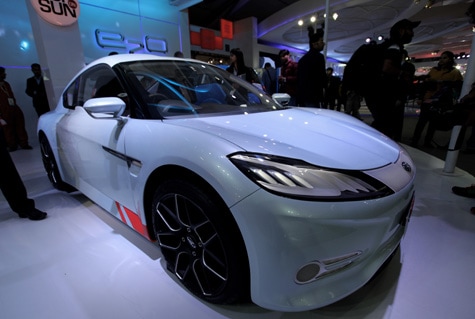 Mahindra Reva, the electric mobility division of Mahindra & Mahindra, on Thursday unveiled its concept electric sports car Halo which it expects to launch commercially in the next three years. The company said depending on the support from the Indian government for electric vehicle, the Halo will be introduced in the country but it could very well hit overseas markets first. "There is a plan to commercialise the Halo, we are working on a bigger powertrain and a final design. It will take about three years to be production ready," ED and president (Automotive and arm Equipment sectors) Pawan Goenka said. He, however, said the car could hit overseas markets first.
Triumph pitches Daytona against rival Harley
Close on the heels of Harley-Davidson launching a 'small' 750cc bike, Triumph Motorcycles India unveiled the Daytona 675 — priced at Rs 10.15 lakh (ex-showroom, Delhi). "The demand generated after the introduction of our international models in November and the customer feedback thus received has fuelled this launch," said India MD Vimal Sumbly. Seven stores will be opened over the next three months and bookings will commence in Delhi and Chennai from February 6. Paul Stroud, director, sales & marketing (global), Triumph Motorcycles India, added, "… this is an opportunity for us to grow further. We are looking at a target of 500 motorcycles in the first six months, 1,000 by year-end and 1,500 by mid-2015."
📣 The Indian Express is now on Telegram. Click here to join our channel (@indianexpress) and stay updated with the latest headlines
For all the latest Business News, download Indian Express App.