Day two of the Budget session of Parliament saw Rajya Sabha face repeated adjournments as Opposition party BSP stormed the Well of the House demanding that the BJP government come clear on the constitution of an inquiry committee into the suicide of Rohith Vemula. The House was then adjourned for the day.
In Lok Sabha, a discussion is currently underway on the controversy arising out of the suicide of Dalit student Rohith Vemula as well as the Jawaharlal Nehru University 'anti-national' row. Jyotiraditya Scindia led the charge for the Congress, while BJP's Anurag Thakur countered him.
Watch Video | Budget Session Kicks Off On A Dramatic, Stormy Note: An Analysis
As it happened
7:55 pm What is say is always based on fact: Rajnath Singh
7:54 pm All those guilty in the attack on journalists and students at Patiala court will be punished: Rajnath Singh
7:53 pm Govt not interfering in the investigation into the JNU case: Rajnath Singh
7.35 pm: There still are many VCs appointed by UPA, I challenge that even if one of them says I do saffronisation I will leave politics: Smriti Irani.
7.26 pm: Have you ever seen Rahul Gandhi go to one spot twice? No, he saw a political opportunity here: Smriti Irani.
7.25 pm: JNU authorities had recommended suspension of Kanaihya Kumar, Umar Khalid and few others over Afzal event, Irani tells LS.
7.24 pm: Irani says JNU administration withdrew permission to hold event after it found it was not being held for "poetry reading".
7.22 pm: Irani quotes alleged anti-national slogans raised inside JNU campus.
7.20 pm: On JNU row, HRD Minister Smriti Irani says don't make this "us against them".
7.18 pm:
In his statement, Rohith Vemula said no one was responsible for his death: HRD Minister Smriti Irani in Lok Sabha pic.twitter.com/DsfGAaTdVp

— ANI (@ANI_news) February 24, 2016
7.15 pm: Smriti Irani alleges Telangana Chief Minister K Chandrasekhar Rao did not act after Rohith Vemula's suicide.
7.12 pm: A visibly choked Irani says no attempt was made to take Rohith Vemula to doctor, his body was used as political tool.
7.10 pm: Mujhe suli pe chadhaya ja raha hai kyuki mere vibhaag ne patra likha? Smriti Irani in Lok Sabha.
Am I being targeted because my department wrote the letter, asks Smriti Irani.
7.05 pm: Aapki ichha Jawab sunne ki thi hi nahi, niyat mein khot thi: Smriti Irani to Congress leaders in Lok Sabha.
You don't wish to listen to the answers, your intentions are wrong: Irani.
7.00 pm: Hanumantha Rao ji ne mujhe likha ki Congress ke karyakal meinn jis VC ka appointment hua uske karyakal mein atmhatya hui: Smriti Irani in LS.
Hanumantha Rao ji wrote to me that the VC of the university where Vemula committed suicide was appointed by the Congress: Irani.
6:26 pm "I want to ask Congress why Afzal's body was not handed to his family. I want to ask the BJP if you are not able to prove charges against Kanhaiya, will you quit politics. Kanhaiya is innocent. How long will you both keep fighting on ideology. Dalits can never get justice by you parties because you both are anti-Dalits. Don't impose your ideologies on Indians," said Asaduddin Owaisi.
BJP gives certificates of nationalism while Congress gives certificates of secularism-Asaduddin Owaisi in Lok Sabha pic.twitter.com/ozWcuqb5X7

— ANI (@ANI_news) February 24, 2016
6:18 pm "Don't blame other parties to score political points. You have formed a coalition with PDP in Kashmir who have opposed afzal's hanging," said Mallikarjun Kharge.
6:17 pm "Congress has never supported anti-national people. Dont blame us. Hang those who are involved in it. but what you are doing? You are framing innocents," said Mallikarjun Kharge in response to Naidu.
6:03 pm I salute the martyrs of Parliament attack. It's because of their sacrifice that we all are here. Keeping this in mind any sympathy for Afzal Guru and Maqbool Bhatt is nothing but anti-nationalism: Naidu
6:02 pm Slogans raised were were Afzal guru Jo tumney andhura kaam choda hai vo hum pura karengey. What is that adhura kaam, asks Naidu.
6:01 pm Some of my colleagues without even knowing what happened in JNU are reacting. Should we all not condemn the slogans raised in favor of Afzal Guru. Who was Afzal Guru. If he had succeded in his act, none of us would have been alive today," said Venkaiah Naidu
5:52 pm What has happened in JNU is very unfortunate. We have all seen what happened in Hyderabad university. It will be sad if something like that happens in JNU: Tariq Anwar, NCP MP
5:50 pm I am proud of JNU. But I am ashamed of the politics going on in the JNU: Chirag Paswan
5:27 pm Venkaiah Naidu replies to MB Rajesh. "Nobody has said that the whole JNU is anti-national. Don't divert the topic. Actions and inquiry have been initiated against those who raised the slogans. Don't fool the people," Naidu.
5:26 pm MB Rajesh (CPM): What is the credibility of Home Minister. There were photoshopped videos and images Kanhaiya Kumar all over. Evidences were frabicated. And you are accusing all JNU student of anti-nationalism.
5:10 pm TDP MP Ravindra Babu Pandua condemns sedition charges against JNU students. "Madam students are very innocent. If they have done anything wrong we must educate them but not punish them," said Babu. "We being a tolerant society must not punish people with different views," Babu added.
5:04 pm The court verdict against Afzal Guru cannot be challenged. The issue of pro-Afzal Guru slogans must be investigated but innocent students must not be framed: Mulayam Singh Yadav
5:02 pm: SP chief Mulayam Singh Yadav speaks in Lok Sabha
4.20 pm: Professor Saugata Bose of the Trinamool Congress hit out at the government for trying to claim a monopoly on nationalism and tar all their critics the brush of anti-nationalism.
"Rohith's tragedy should have stirred our collective conscience, including that of our government. Unfortunately, we have a heartless government.
That refuses to listen to the cries of despair coming from the marginalised sections of our society. Instead of assuring social justice to all, the ruling party wishes to use the unrest in our universities to claim a monopoly on nationalism, and tar all of their critics with the brush of anti-nationalism.
I am not a communist.. but I stand today in support of the right to freedom of expression by young students who may be inspired by Marx as well as Ambedkar.
Madam Speaker, I am a nationalist… I believe in a kind of nationalism that instills a spirit of selfless service in our people, and inspires their creative efforts…
I deplore the kind of nationalism espoused by the members of the treasury benches that I find narrow, selfish and arrogant."
4.05 pm: Concluding his speech, Thakur questioned whether the Congress party considered Afzal Guru to be a terrorist or not.
"I want to ask Congress President Sonia Gandhi whether Afzal Guru was a terrorist or not?" Thakur said.
4.00 pm: Rajya Sabha has been adjourned for the day as BSP refuses to let the House function
3.55 pm: Scindia intervenes on a point of order accusing Thakur of defaming Congress vice president Rahul Gandhi over his visit to JNU.
Thakur had said: "Rahul Gandhi goes to a University named after his grandfather and supports anti-nationals," which Scindia objected to. The Speaker, however, refused to sustain the objection.
Thakur also said that one should know the difference between India and the Indian government. "You can criticize Indian govt but criticizing India is not acceptable," he said.
"Scindia ji keh rahe hai ki unko (Afzal Guru) arrest kijiye, kaise arrest karein? Guru ko to faansi lag chuki hai."
3.40 pm:  BJP MP Anurag Thakur is responding to the Opposition, saying the event that took place at JNU was an event held to protest the judicial killing of Afzal Guru.
"You have to decide, who are you with. Are you with the murderers or are you with the saviours," Thakur said.
In his speech, Thakur quoted slogans allegedly raised at the JNU. "Kashmir Ki Azadi tak jung rahegi, Bharat ki Azadi tak jung rahegi."
"They can wait to see India cut into pieces but we can't," says Anurag Thakur.
"For them, it's family first, party next, nation last; For us, it's nation first, party next, self last," he added.
3.32 pm: "Kya RSS ka naam baar baar lena aavashyak hain?," Scindia said, raking up the JNU controversy where students were arrested for allegedly being anti-national.
Scindia hit out at the BJP over its own MLA OP Sharma for claiming he would shoot and kill 'anti-nationals' who offend 'Mother India'.
"The government is mute when BJP MLA OP Sharma and Sakshi Maharaj openly abuse power, but they're ready to slam sedition charges on a student without proof," Scindia said.
"The government is defaming the university because it's standing up to the RSS and the Modi government policies," Scindia added.
3.30 pm: With the treasury benches repeatedly chanting slogans in an attempt to disrupt Scindia's speech, the Congress MP shot back saying he would not yield to their demands and will not let his voice in Parliament be trampled.
"You cannot shut my voice down in Parliament.. oppose me as much as you want, but you can't shut my voice down," Scindia said.
3. 25 pm: Slamming the Modi government, Scindia said it was unacceptable to blacklist a university of 8,000 students for the actions of 8 students.
Quoting various officials including ministers who were alums from JNU, Scindia questioned how BJP leaders could demand that the institution be shut down. "The Foreign Secy, Minister Nirmala Sitharaman, Niti Aayog CEO Amitabh Kant, Sitaram Yechury are from JNU," Scindia said.
"Home Minister Rajnath Singh had said that Hafiz Saeed supported JNU protest, shouldn't the Home Minister have investigated before saying this?"
3.05 pm: "The government will have to answer whether it is a sin to follow in the path of Dr Ambedkar," Scindia said, refusing to let HRD Minister Irani intervene during his speech.
"Our Prime Minister is one who tweets all the time, but he took five days to break his silence. He didn't even say a word during his mann ki baat programme," Scindia added.
"I've been in politics for just 15 years but I have never heard of the National Security Advisor deciding whether an individual is a Dalit or not."
"Ek taraf sarkar Baba Saheb ke mulyo ka prachar kar rahi hai aur bahar ja kar dalito par atyachar kar rahi hai, Scindia said.
3.00 pm: Lok Sabha begins discussion on JNU row as well as suicide of Dalit scholar Rohith Vemula. Congress MP Jyotiraditya Scindia has opened the discussion.
2.55 pm: Rajya Sabha has been adjourned till 3.30 pm. Lot's happening, stay tuned.
2.50 pm: Smriti Irani has intervened questioning what the logic behind Mayawati's question was. "My only question to the senior members of this House is, are we going to let the caste of a judge decide whether he can deliver justice?"
Mayawati counters: "Their intentions are not clean. The Prime Minister's intentions are not clean."
2.45 pm: With the proceedings going nowhere, Naqvi asked the chair to at least take up a bill for discussion and passing but Mayawati was quick to counter him saying nothing will happen till she gets her answer.
2.40 pm: Mayawati insists that the government answer whether a Dalit member will be part of the committee or not. She also said that it would be better if the House take up the discussion on Thursday in two parts – one on JNU and the other on the Hyderabad university suicide.
2.30 pm: Rajya Sabha has reconvened after it was adjourned for a few minutes after a heated exchange between Mayawati and Irani over the death of Dalit student Rohith Vemula.
The stand-off between the government and the BSP continues as the government has refused to answer to a one-off question while the BSP maintains that they want the government to respond to their question first.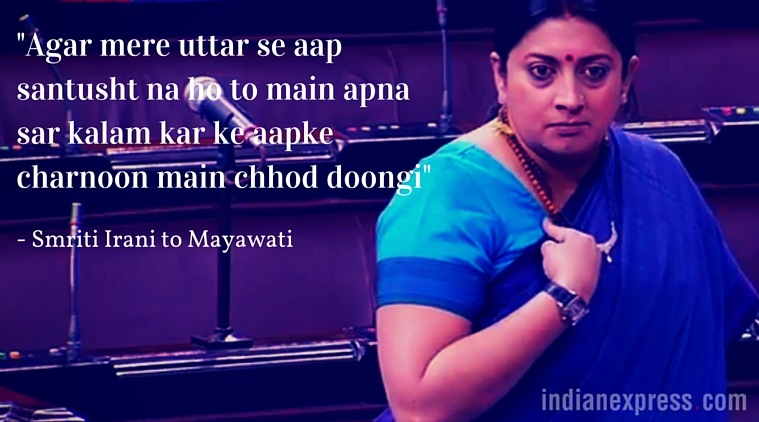 2.00 pm: As Rajya Sabha reconvened at 2 pm, BJP MP and Union Minister Smriti Irani and BSP supremo Mayawati clashed over the suicide of Rohith Vemula with Irani charging the BSP of using the death of the student as a political tool. Mayawati shot back demanding that Irani be sacked for what she termed as 'her role' in Vemula's suicide.
Kurien warned that he would have to take action and suspend the BSP MPs for their 'irrational behaviour' in the House.
1.10 pm: Lok Sabha has been adjourned for lunch and will resume at 2.15 pm, where the motion of thanks to the President's address will continue. Rajya Sabha has been adjourned till 2 pm after uproar by BSP MPs.
1.05 pm: Lekhi touched upon Dalit scholar Rohith Vemula's suicide, saying it was wrong on the part of the Left to make it a political issue, saying that a PhD scholar in Kerala was harassed by Leftist goons in 2010 but nobody raised the issue then.
"The contemptuous attitude these people have to the development of the nation. On one side, the economy is doing really well, on the other these people want to derail this," Lekhi said, in her speech on the motion of thanks to the President's speech.
12. 45 pm: BJP MP Meenakshi Lekhi is leading the 'Motion of Thanks' in Lok Sabha, highlighting the government's achievements over the last year across sectors, including her government's attempts to revive India's image abroad and bring in investments.
12.35 pm: Rajya Sabha continued to see protests by BSP MPs forcing Chairman Ansari to adjourn the House once again till 2 pm. The MPs refused to allow a discussion or allow the House to proceed with the Question Hour saying they want the government to respond to Mayawati's query first.
The government, on its part, has said they will not answer one-off questions but were willing to appropriately respond to all queries during the discussion, which they said could be taken up at any time suitable.
12. 20 pm: While Rajya Sabha has seen constant disruptions, Lok Sabha has agreed to take up the discussion on the JNU controversy and the Rohith Vemula suicide at 3 pm this afternoon. The House will now discuss  the 'motion of thanks' for President Pranab Mukherjee's joint address to both Houses of Parliament.
12.17 pm: "My priority is that the House run," says M Venkaiah Naidu as he informs Lok Sabha that the government is ready for a discussion but will follow the business scheduled for the day.
Speaker Mahajan said it would be appropriate to take up the 'motion of thanks' for the President's address following which the issue will be taken up for discussion.
12.14 pm: Rajya Sabha once again adjourned for 15 minutes. Meanwhile, in Lok Sabha, Congress leader Mallikarjun Kharge appealed to Speaker Sumitra Mahajan to take up the discussion on pressing issues immediately and not after the Railway Budget.
Kharge, earlier in the day, had submitted notice to adjourn proceedings and hold discussions immediately on JNU as well as the Rohith Vemula suicide.
12.02 pm: Rajya Sabha Chairman Hamid Ansari resumed proceedings saying there would be no discussions during Question Hour and that the protesting MPs should go back to their seats as their protest during Question Hour was a violation of the rights of individual MPs.
"You cannot trample on the rights of individual members… your own colleagues," Ansari said, adjourning the House for 10 minutes.
11. 38 am: HRD Minister Smriti Irani, visibly agitated, rose to charge the BSP with using a student's suicide as a political tool. She alleged that the Opposition MPs were using the death of Rohith Vemula as a tool to further their political agenda. "Who uses a child to play their political strategy, sir? Not just in this House but across the nation," Irani said.
11.37 am: Rajya Sabha has once again been adjourned – till 12 pm – after the BSP refused to give in and allow the discussion to be held, demanding that the government first respond to its query on whether there will be a Dalit individual in the inquiry committee.
Kurien said he was forced to adjourn the House as he was not in a position to force the government to respond to a member's query.
11.33 am: What is Mayawati's question? The BSP supremo wants to know if there will be at least one Dalit in the inquiry committee constituted to look into the suicide of Rohith Vemula.
CPI(M) leader Sitaram Yechury intervened and said the government should respond to Mayawati's query as it was a one-off question and had nothing to do with the debate.
11. 30 am: Naqvi has once again reiterated that the government is ready for a discussion right away but the BSP seems adamant on disrupting proceedings till Mayawati's question is answered.
"Let the House discuss the issue. Whatever questions the Opposition has, we are ready to answer. Let the discussion begin immediately. But we cannot answer to one MP without a proper discussion," Naqvi said.
11. 15 am: 'Ambedkar Virodhi yeh Sarkar', 'Dalit Virodhi Yeh Sarkar' – Opposition MPs from the BSP stormed the Well of Rajya Sabha chanting anti-government slogans and demanding that the treasury benches respond to her question, but did not commit to having an immediate discussion.
Both, the government and the Congress, have agreed to have a discussion immediately, with BJP MP Naqvi saying the government was ready to provide 'appropriate answers'.
11.10 am: BSP supremo Mayawati raised the suicide of Dalit scholar Rohith Vemula in Rajya Sabha, attacking the RSS and the BJP government and refused to stop speaking, despite deputy Rajya Sabha chairman PJ Kurien asking her to end her statement and bring up the issue during the discussion at 2 pm.
11.05 am: Making his government's stand clear, Parliamentary Affairs Minister M Venkaiah Naidu
11.00 am: Day two of the Budget session has begun. In Rajya Sabha, Ministers laid papers on and reports on the table of the House, in Lok Sabha, the Question Hour is currently underway.
10. 50 am: Missed what happened on day one of the Budget session? Click here for the highlights.
10.45 am: Left, Opposition protest outside Parliament complex
Left JD-U MPs protest over #JNURow @IndianExpress pic.twitter.com/Ai68o93Hz1

— Liz Mathew (@MathewLiz) February 24, 2016
10. 30 am: A meeting of senior cabinet ministers has been called by Prime Minister Narendra Modi. The meeting, currently underway, is being attended by Union ministers including Home Minister Rajnath Singh, Defence Minister Manohar Parrikar and External Affairs Minister Sushma Swaraj.
10. 10 am: In Rajya Sabha, BJP MP  Bhupendra Yadav will initiate the discussion on the JNU controversy. Union Ministers Arun Jaitley and Smriti Irani will also intervene.
10.00 am: Congress Leader Mallikarjun Kharge has given an adjournment motion notice in Lok Sabha on the JNU controversy and the suicide case of Dalit PhD scholar Rohith Vemula.
[related-post]
At its meeting late Tuesday evening, the BJP decided to aggressively counter Congress and the Left over the JNU row and the Hyderabad university controversy, setting the stage for a confrontation in both Houses.
BJP chief Amit Shah took the lead in briefing members of the parliamentary party executive and those of the NDA about the details of the JNU case, backing the party's nationalist pitch.
The briefing included how the NDA members should rake up incidents, including the alleged assault in JNU on army officials following the Kargil war, to buttress their arguments.
Sources said Shah, who had accused Congress vice president Rahul Gandhi of "supporting traitors" in the JNU row, gave a sequence of events on the campus and how the accused students tried to present themselves as innocents by shooting another video on a different day.
Finance Minister Arun Jaitley, sources said, defended the case of sedition and noted that a Supreme Court judgement had said that slogans calling for disintegration of India amounted to such a charge.
He made these remarks in the meeting of BJP parliamentary party executive which was held before the NDA meet.
Prime Minister Narendra Modi also attended the meeting and told the leaders of his party and allies about the government's clear stand on the issues, resulting in it agreeing to debate them in the House as demanded by the opposition.
NDA MPs will also highlight the previous instances of Congress acting against "this union of Marxists and secessionists" on the campus and how they have come together now merely to corner the Modi government, sources said.
Anandrao Adsul (Shiv Sena), who attended the meet, said his party totally supported the government on these issues.
📣 The Indian Express is now on Telegram. Click here to join our channel (@indianexpress) and stay updated with the latest headlines
For all the latest Business News, download Indian Express App.