The Union Budget for 2018-19 has promised to fix minimum support prices (MSP) for crops to guarantee farmers at least 50 per cent returns on production costs. This is quite similar to the original recommendation of the M S Swaminathan-headed National Commission on Farmers (which called for MSPs to be "at least 50% more than the weighted average cost of production") and the BJP's 2014 Lok Sabha Election Manifesto (which talked of ensuring farmers "minimum 50% profits over the cost of production").
But whether it is the Budget, the Swaminathan formula or the BJP manifesto, none of them has quite defined what really constitutes "cost of production". And therein lies the nub.
The question assumes importance because the Commission for Agricultural Costs and Prices (CACP), the body that recommends MSPs for various crops, gives three definitions of production costs: A2, A2+FL, and C2.
A2 costs cover actual paid-out expenses incurred by farmers – both in cash and in kind – on seeds, fertilisers, pesticides, hired labour, fuel, irrigation, etc. A2+FL includes A2 plus an imputed value of unpaid family labour.
C2 costs are more comprehensive, accounting for the rentals or interest foregone on owned land and fixed capital assets, on top of A2+FL.

The charts give A2, A2+FL and C2 production costs in 2017-18 for 20 major kharif and rabi season crops, as estimated by the CACP, along with their corresponding MSPs declared by the Centre.
The current MSPs, it can be seen, are more than one-and- a-half times the A2 production in all but three crops: jowar (sorghum), ragi and sunflower. In other words, if it is only about providing 50 per cent return on actual paid-out costs to farmers, that promise has already been met by the Narendra Modi government as far as the MSP announcement goes.
The compliance with the Swaminathan formula, however, drops to just eight out of the 20 crops when it comes to A2+FL costs.
The MSPs are 50 per cent or more than the latter only in bajra (pearl millet), arhar (pigeon pea), urad (black gram), wheat, barley, chana (chickpea), masur (lentil) and mustard.
The compliance is even lower with respect to C2 costs, in which there isn't a single crop whose MSP is now giving 50 per cent or more return.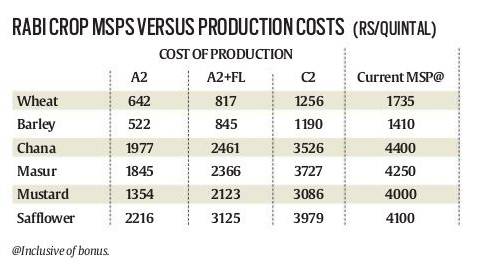 The crop coming closest is wheat. With its MSP at 1.38 times the estimated C2 cost, that seems to be the most profitable growing proposition for farmers today.
It's quite unlikely that the Modi government intends to implement its promise of ensuring minimum 50 per cent profit over production costs in terms of C2. That would entail huge MSPs increases that neither the exchequer nor the markets can bear.
In his Budget speech, Jaitley has noted that the existing MSPs are already at least 1.5 times of production costs "for the majority of rabi crops". The reference here is clearly to A2+FL costs, as safflower is the only rabi crop whose MSP is not Swaminathan formula-compliant in this case. Jaitley has further stated that his government would raise the MSPs for kharif crops, too, to 1.5 times their production costs.
That, in terms of A2+FL, is now limited only to three kharif crops: bajra, arhar and urad.
If 50 per cent-plus returns on A2+FL costs are to be given across the board, the MSP for paddy alone would have to go up from Rs 1,550 to around Rs 1,700 per quintal in the coming kharif season. That hike – amounting to Rs 150/quintal, as against an average of Rs 60 during the first four years of the Modi government – cannot be ruled out in an election year.
The Indian Express website has been rated GREEN for its credibility and trustworthiness by Newsguard, a global service that rates news sources for their journalistic standards.