Written by
George Mathew
| Mumbai |
Updated: June 15, 2018 7:16:58 am
WEIGHED DOWN by huge losses and non-performing assets (NPAs), banks have written off a record Rs 1,44,093 crore of bad loans in the financial year ending March 2018 — up 61.8 per cent from Rs 89,048 crore in the previous year.
The total loan write-off by private and state-owned banks in the last 10 years since 2009 has touched a whopping Rs 4,80,093 crore as on March 31, 2018 – 83.4 per cent of this amount, or Rs 400,584 crore, was from public sector banks, according to figures compiled by rating agency ICRA for The Indian Express. Of the write-off for 2017-18, Rs 1,20,165 crore loans were written off by public sector banks.
Banks normally resort to write-offs in the case of loans which are in the doubtful recovery category. "It is technical in nature. It's a book adjustment. When a bad loan is written off, it goes out of the books of the bank. The bank will also get tax benefits. However, the bank will continue the recovery measures even after the loan is written off," said Pradeep Ramnath, former chairman and MD of Corporation Bank.
The last financial year was also the worst for the sector as banks were forced to stop evergreening of bad loans and go for NPA recognition amid huge losses to their government securities portfolio following the rise in bond yields.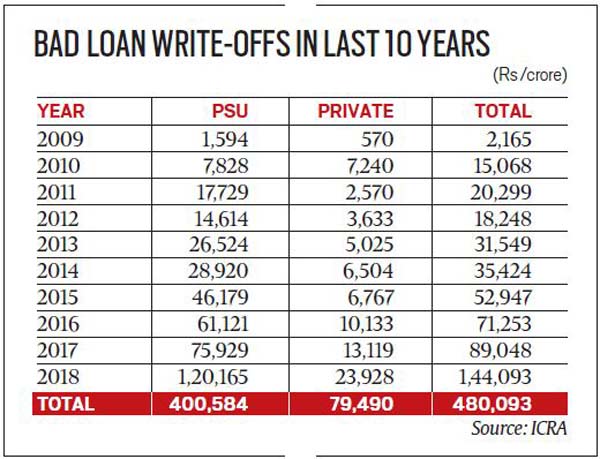 The compiled figures show that the State Bank of India wrote off Rs 40,281 crore in 2017-18, while fraud-hit PNB wrote off Rs 7,407 crore and Indian Overseas Bank Rs 10,307 crore.
SBI alone wrote off Rs 1,23,137 crore over the last 10 years, while Bank of India wrote off Rs 28,068 crore followed by Canara Bank with Rs 25,505 crore and PNB with Rs 25,811 crore, according to ICRA figures.
Private banks wrote off Rs 23,928 crore in the year ended March 2018 against Rs 13,119 crore the previous year — Axis Bank wrote off Rs 11,688 crore and ICICI Bank Rs 9,110 crore. The total write-offs by private banks in the last 10 years amounted to Rs 79,490 crore.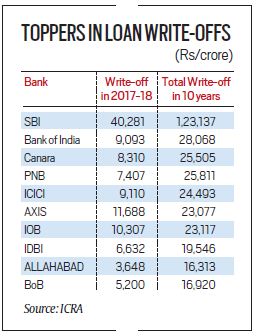 Bankers say recovery from written-off loans are poor with hardly any transparency in the process. "Banks usually write off loans which are not recoverable. Borrowers are not informed about the write-off. Once a loan is written off, it's not counted as NPA. When recovery happens, it will add to the profits of the bank," said the CEO of a public sector bank speaking on condition of anonymity.
However, the practice of write-offs also has its share of critics. "There is nothing like technical write-off. It's non-transparent and without any policy. Generally a write-off is small and used sparingly when there is some crisis. A technical write-off creates non-transparency, destroys the credit risk management system and brings all types of wrongdoings into the system. You must declare how much you are writing off. You are writing off public money. It's a scandal," said K C Chakrabarty, former RBI Deputy Governor.
In FY18, gross NPAs rose to around Rs 10.3 lakh crore, or 11.2 per cent of advances, compared to the previous year with Rs 8 lakh crore, or 9.5 per cent of advances. About a fifth of the slippages in FY18 was due to withdrawal of various structuring schemes by the RBI in February, after the Insolvency and Bankruptcy Code (IBC) process came into force, according to a Crisil report.
Besides, public sector banks suffered a loss of over Rs 87,000 crore in the fiscal year ended March 2018 owing to higher provisioning towards NPAs and losses in the bond portfolio.
📣 The Indian Express is now on Telegram. Click here to join our channel (@indianexpress) and stay updated with the latest headlines
For all the latest Business News, download Indian Express App.