Written by Jiju Vidyadharan | New Delhi |
Updated: September 29, 2017 6:58:42 am
Retirement is unavoidable. It happens eventually to all wage-earners. It is up to us on how we want to spend our sunset years — cushioned or threadbare. Retirement planning can be daunting. A lot depends on our investment strategy and portfolio choices. Indians are partial to investments in real estate, gold and fixed income investments.
But in the current times, will this suffice?
No. Real estate prices have run up out of the range of the common man, while gold also has seen its fall in recent years, plus it is more of a diversification factor to the portfolio, compared to its traditional use of hoarding in the country. Which leaves us with fixed income investments, (mostly bank fixed deposits) while these provide safety, they tend to generate marginal inflation-adjusted returns. We need a long-term wealth-creator for that. The obvious choice, then, is equities.
Why equities?
Equities are essentially long-term investments. If we consider the current median age of Indians, which is below 30 years of age, the investment horizon would be around 30 years. Equity as represented by the Sensex has given, on an average, 15.87 per cent in the 30-year rolling period since 1979; minimum has been 12.57 per cent. Compare this with 9.50 per cent average returns by bank fixed deposits in that period. Further, volatility associated with the asset class also reduces drastically over the long term. Unarguably, investors should plump up their retirement corpus with equity padding.
Equities enter PF money
The importance of equities in retirement planning has also been understood by the Employees Provident Fund of India (EPFO), the largest retirement fund for the organised sector in the country. EPFO started with allocating five per cent of its incremental inflow of around Rs 1 lakh crore in FY16 to equities, before increasing this to 10 per cent in FY17, and now utilises its full quota available of 15 per cent. Further even the other retirement fund, viz., the National Pension System (NPS), regulated by the Pension Fund Regulatory and Development Authority (PFRDA) allows up to 15 per cent exposure to equity for government sector employees and up to 75 per cent (under aggressive plan) for private sector.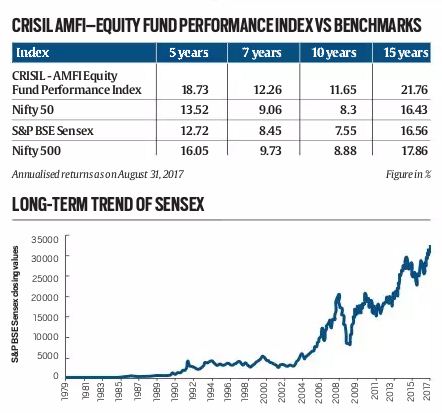 Global landscape
Globally, too, equity is a preferred investment avenue for retirement money. According to the Organisation for Economic Co-operation and Development's (OECD's) annual pension survey, large pension funds, on an average, have 29.8 per cent equity exposure in 2014, while public pension reserve funds have 30.3 per cent. India, on the other hand, has less than three per cent of its annual household savings in the capital market as of FY16.
Out in the woods? Get professional help
Now that the case for equity investments in retirement planning is established, let us look at how to go about it. Most investors would think of directly investing in equity stocks. This can be a complex exercise, especially since most investors lack the wherewithal. To analyse the importance of fund management and fund manager, we evaluated the domestic mutual fund industry since it has a long history as well as is professionally managed and compared its performance against the benchmarks. We used the CRISIL-AMFI Equity Fund Performance index as it represents the performance of professionally-managed equity mutual funds in the country and enables their comparison with appropriate benchmarks across time frames and market cycles. The answer, as seen in chart, is that professional fund management has beaten the benchmark by a wide margin.
Some of the notable options available in India currently are the NPS, retirement plans from mutual funds and pension plans from insurance companies. While retirement plans from mutual funds and pension plans from insurance companies provide tax benefits up to Rs 1.5 lakh of investment under Section 80C, NPS provides an added Rs 50,000 of investments under the new Section 80 CCD (1B). Investors should, however, do due diligence on the investment options based on their risk-return profile before investing.
Summing up
Retirement planning should begin with capital appreciation and gradually move to capital stability as the investor reaches retirement age. Since retirement planning is a long-term process, it would be prudent to allocate some amount to equity in sync with one's risk-return expectations.
The writer is senior director (funds & fixed income), CRISIL Research.
📣 The Indian Express is now on Telegram. Click here to join our channel (@indianexpress) and stay updated with the latest headlines
For all the latest Business News, download Indian Express App.