Written by
George Mathew
| Mumbai |
Updated: May 21, 2018 6:46:35 am
Data over the last five years shows that private banks have been steadily accumulating bad loans, with a 450 per cent rise in gross Non-Performing Assets (NPAs) of these banks — from Rs 19,800 crore at the end of financial year 2013-2014 to Rs 109,076 crore at the end of March 2018.
What has contributed to this rise in NPAs of private banks is the RBI's February 13 circular, which changed the rules governing the restructuring of stressed assets, besides the central bank's tough stance against divergence of NPAs. "Some private banks were understating NPAs earlier; now they have to disclose them," said a banking source.
Among private banks, ICICI Bank, whose MD and CEO Chanda Kochhar is facing allegations of conflict of interest while sanctioning loans to the Videocon Group, topped the NPA table with Rs 54,063 crore in bad  loans. That's a 514 per cent jump in NPAs in five years — from Rs 10,506 crore at the end of financial year 2013-14 to Rs 54,063 crore at the end of March 2018.
At 988 per cent, Axis Bank  registered the biggest jump in NPAs over the last five financial years — from Rs 3,146 crore at the end of 2013-14 to Rs 34,249 crore at the end of 2017-18. The RBI had penalised Axis Bank for under-reporting Rs 5,632 crore worth of stressed assets last year.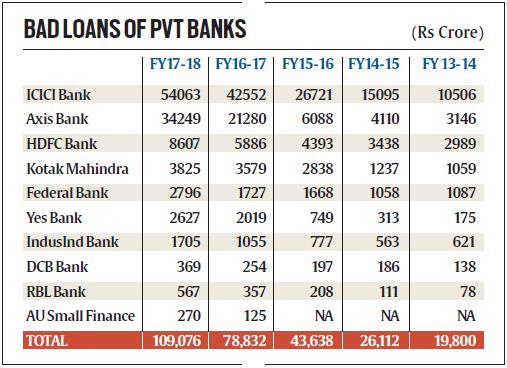 HDFC Bank's NPAs rose from Rs 2,989 crore to Rs 8,607 crore in the last five financial years.
In her first interaction last week since the surfacing of the Videocon loan scandal in March, Kochhar attributed ICICI Bank's NPA figures to the impact of the RBI's February circular on stressed assets.
On February 12, 2018, the RBI withdrew all existing restructuring mechanisms such as Corporate Debt Restructuring and Strategic Debt Restructuring (SDR) and said that if a borrower company defaults even by a day, lenders must consider it a defaulter and start working on a resolution plan. Until then, bad loans were classified as such only after 90 days of default. The central bank also said the company's failure to come up with a resolution plan in 180 days would lead to the account being referred for insolvency proceedings. Both the government and the bankers had opposed the new framework.
The argument against the new framework was that working on a resolution plan after one day of default was unfair and that the requirement to refer stressed accounts for insolvency after 180 days of default would lead to a pile-up of cases at the National Company Law Tribunals.
Announcing the fourth quarter results last week, Shyam Srinivasan, Managing Director & CEO, Federal Bank, said, "The revised framework for resolution of stressed assets, being a new regulation, has impacted our bottom line figure."
Banks are now banking on insolvency proceedings for a substantial recovery in toxic assets. With some of the high-profile cases entering the final stage of resolution and loan slippages coming down, bankers are hopeful that the NPA situation will get better in the coming months.
"Initially, it (resolution) was not moving at the right pace. If you observe the recent bidding process, it's going in the right direction. The response has been good. Many big accounts are in the last stage of resolution. Haircut in these accounts has come down. Initially, the bidding was very low but now bidding has been good and there's good competition," said the CEO of a bank who spoke on condition of anonymity.
Profitability of private banks also took a beating. Axis Bank posted its worst quarterly earnings, declaring a loss of Rs 2,189 crore in the January-March period of 2018 as bad loan provisions zoomed. ICICI Bank reported a 50 per cent fall in profits for the fourth quarter and Federal Bank posted a 44 per cent decline in the bottom line.
The Indian Express website has been rated GREEN for its credibility and trustworthiness by Newsguard, a global service that rates news sources for their journalistic standards.