Showing signs of demand uptick in the economy, gross bank credit of scheduled commercial banks (SCBs) grew in double digit for the first time since demonetisation and GST implementation. According to the monthly data released by the Reserve Bank of India on Monday, gross bank credit rose 10.4 per cent in April 2018 (highest in 19-months) led by strong growth in credit demand by service and personal loan segment, even as industry demand for credit stood low at 1 per cent.
The RBI data shows that the credit demand for services sector jumped 20.7 per cent in April and the demand for personal loans rose 19.1 per cent. Agriculture and allied activities too witnessed a 5.9 per cent rise in credit demand from the banks. While the credit outstanding of SCBs rose by Rs 7.1 lakh crore from Rs 68,981 billion in April 2017 to Rs 76,130 billion in April 2018, almost 90 per cent of the growth was contributed by services and personal loan segment. It is important to note that the two segments account for 51 per cent of the total credit outstanding of scheduled commercial banks.
The Industrial sector that accounts for almost 35 per cent of the total credit outstanding of banks saw a growth of 1 per cent in April 2018 over that in the previous year.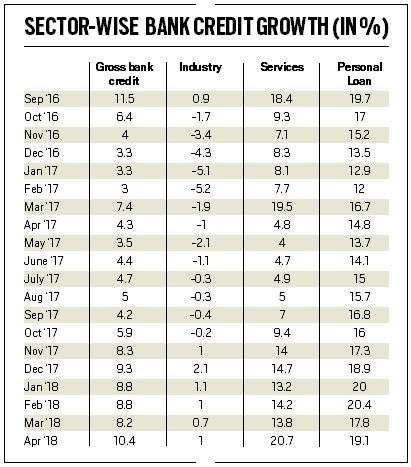 A deeper look into the numbers shows that within the services sector, the demand was driven by NBFC's and retail trade. The credit demand by NBFCs rose 29.5 per cent in April and that for retail trade grew by 15.2 per cent. Other services witnessed a growth of 36.7 per cent.
Within the personal loan segment, credit card outstanding grew 35.2 per cent and the advances on fixed deposits rose 22 per cent. The housing loan and vehicle loans grew 14.9 per cent and 9.9 per cent respectively. The last time that the gross bank credit rose in double digits was in September 2016 when it grew 11.65 per cent. Since then, the credit growth has been under pressure as the demand in the economy got impacted by the demonetisation move in November 2016 followed by GST implementation in July 2017.
Post the demonetisation announcement, the gross bank credit declined sharply to 4 per cent in November 2016 and then to 3.3 per cent in December 2016. In January and February 2017 it stood low at 3.3 and 3 per cent respectively. While it stood at 5.9 per cent in October 2017, it started to pick up beginning November 2017 when it rose to 8.3 per cent and has stood above 8 per cent since then every month.
Rakesh Bharti Mittal, president, CII, said that the adjustment process regarding major reforms of the past few years is largely stabilised. "The credit growth numbers are a good sign and have come on the back of consumption demand especially the rural consumption. This should help the MSME sector and banks must look at supporting them on the capital side," said Mittal.