Around 10 lakh bank employees will go on a two-day strike from Wednesday as the conciliation efforts by the government failed to convince bank unions to call off the stir against the proposed low wage hike.
While Additional Chief Labour Commissioner (CLC) met the bank unions, under the banner of the United Forum of Bank Unions (UFBU), finance ministry officials and the Indian Banks' Association (IBA), talks to avert the strike failed.
The strike is likely to affect the banking operations across the country. Cash withdrawals from ATMs and cheque clearance are likely to be hit, banking sources said, "as the strike has come during the month end, salaried class and small units are likely to bear the brunt."
All India Bank Employees' Association (AIBEA) General Secretary CH Venkatachalam said during the discussions, the IBA offered an increase of 2 per cent over the total wage bill of the Banks as on March 31, 2017. Under the last 10th Bipartite Wage Settlement that was made effective from 1-11-2012, IBA had agreed for a hike of 15 per cent increase over the total wage Bill, he said.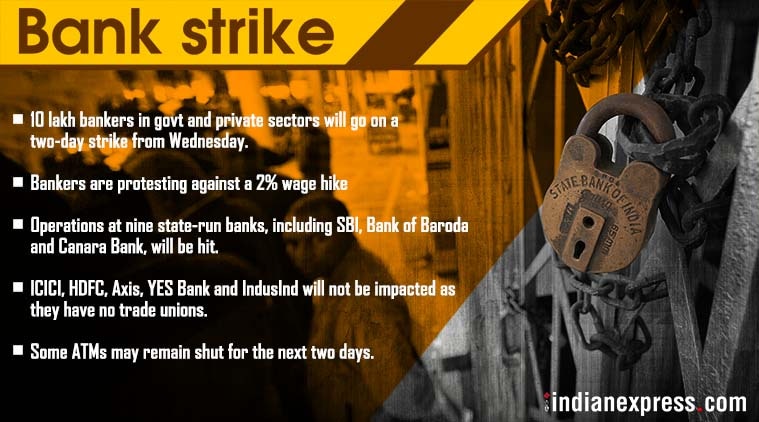 "The volume of business and the volume of work of the employees and officers have gone up enormously in the recent years. In addition, bank employees and officers are compelled to undertake so much of non-banking business and all the burden of doing various government schemes have fallen on the shoulders of the bank staff," UFBU, the umbrella body which represents nine unions, said.
Banks which reported huge losses and bad loans in the March quarter are not keen to take a heavy burden of a big wage hike in the current circumstances.