Chanda Kochhar on Thursday quit as Managing Director and CEO of ICICI Bank, one of India's largest private banks, six months after The Indian Express first reported on allegations of conflict of interest and nepotism. Her departure is the latest in a series of exits by top private bank chiefs after a regulatory push over the last few months.
In a filing to the stock exchanges Thursday, ICICI Bank said that its board accepted the request of Kochhar, who had six months in her term, to "seek early retirement." She was on leave since June 18 this year pending an investigation by retired Supreme Court judge Justice B N Srikrishna into various allegations against her and the bank. The bank said the enquiry will remain unaffected by the exit and certain benefits will be subject to the outcome of the enquiry. Kochhar will also relinquish office from the board of directors of the bank's subsidiaries.
When asked about the status of investigation, Justice Srikrishna told The Indian Express: "It's not yet over. It's still work in progress. There are a lot of other things to be done. I hope to complete it in a month's time." He added: "She has quit on her own. I wasn't aware of the decison and it had nothing to do with the enquiry panel. I am yet to finish my report and there is no question of submitting any kind of preliminary findings."
The board decided to appoint Sandeep Bakshi as Managing Director & Chief Executive Officer. His appointment will be for a period of five years until October 3, 2023, subject to regulatory and other approvals. The other terms and conditions of his appointment, such as remuneration, would remain unchanged, the bank said.
HERE IS THE INDIAN EXPRESS INVESTIGATION THAT UNEARTHED THE CONFLICT OF INTEREST.
While the board, which accepted Kochhar's request "with immediate effect," did not specify any reason for Kochhar's sudden decision, financial sector sources said imminent regulatory action could have forced her to quit. What may well have prompted this move are the central bank's norms which apparently do not permit an incumbent CEO to stay out for more than four months. Having stepped down in June with a probe underway, that deadline was also close.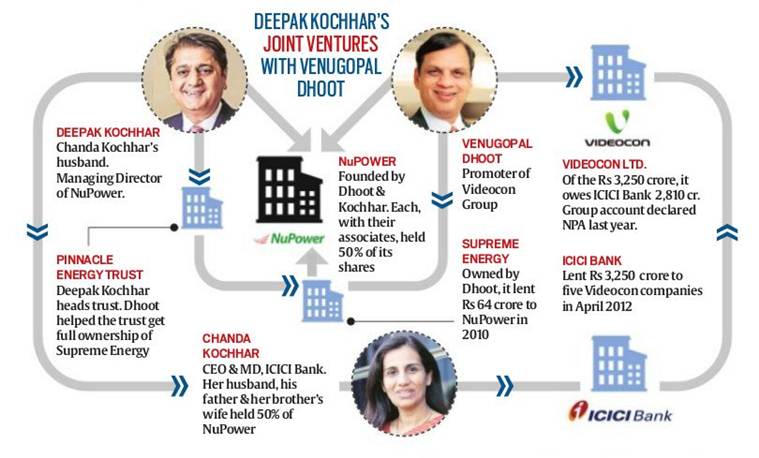 ICICI Bank and Kochhar have been under regulatory scrutiny after The Indian Express first reported on March 29 that Videocon group promoter Venugopal Dhoot provided crores of rupees to a firm he had set up with Deepak Kochhar and two relatives six months after the Videocon group got Rs 3,250 crore as loan from ICICI Bank in 2012. The amount was part of the Rs 40,000-crore loan that Videocon group secured from a consortium of 20 banks led by SBI.
Dhoot gave Rs 64 crore in 2010 through a fully owned entity to NuPower Renewables Pvt Ltd (NRPL), which he had set up with Deepak Kochhar and two of his relatives. He transferred proprietorship of the company to a trust owned by Deepak Kochhar for Rs 9 lakh, six months after he received the loan from ICICI Bank.
READ | 'Certain benefits to Chanda Kochhar subject to enquiry outcome'
Almost 86 per cent of the Rs 3,250 crore loan (Rs 2,810 crore) remains unpaid. The Videocon account was declared an NPA in 2017. Kochhar's departure from the ICICI group follows several high-profile exits from the private banking sector. The RBI, under Governor Urjit Patel, has been tough against erring private banks, having refused to approve a third three-year term for Axis Bank MD and CEO Shikha Sharma.
The RBI also refused to clear the preferential issue of Kotak Mahindra Bank for dilution of the promoters' stake. The central bank had recently said Yes Bank MD and CEO Rana Kapoor's tenure will end on January 31, 2019. The bank's board had earlier recommended another three-year term for Kapoor who has been its MD and CEO since 2004.
READ | Chanda Kochhar: The CEO who rose through the ranks at ICICI
Last week, the RBI had barred Bandhan Bank from opening new branches and ordered freezing of remuneration of its MD and CEO Chandra Shekhar Ghosh over the bank's failure to adhere to RBI's bank licensing regulations. Last month, the RBI indicated that it has not yet given a clean chit to ICICI Bank and Chanda Kochhar, on the issue of conflict of interest, quid pro quo and corporate governance violations while extending loans.
Responding to a query from The Indian Express under the Right To Information (RTI) Act on the action taken against ICICI Bank and Chanda Kochhar, the central bank said: "RBI is engaged with ICICI Bank in the matter and investigations by external agencies in the matter have not attained finality."
After The Indian Express report on Chanda Kochhar's potential conflict of interest, the bank's board stood firmly behind her saying no wrong was committed by the MD and CEO. It said the loan was underwritten in accordance with the bank's credit standards and was extended as part of a consortium involving over 20 banks.
M K Sharma, the then chairman of the bank, had said the bank had satisfactorily replied to all the questions of the regulators. In April, the RBI had imposed a penalty of Rs 58.9 crore on ICICI Bank for allegedly violating the central bank's guidelines governing treasury operations. The RBI's penalty for violation of rules in the banking sector normally doesn't exceed Rs 5 crore. On May 30, the board of ICICI Bank instituted an enquiry into a new complaint against Kochhar but it did not specify the time by when the final enquiry report is expected.