"You can't cross the sea merely by standing and staring at the water." – Rabindranath Tagore
As of June 2016, Narendra Modi has made 38 trips abroad across five continents. Since becoming the Prime Minister two years ago, he is visiting the U.S. for the fourth time, which includes an address to the US Congress — the fifth Indian prime minister to do so. His earlier trip to Silicon Valley was the first by an Indian Prime Minister in three decades.   
Let me set up the context (or bias, as one can argue) to my views about Narendra Modi's visit to the US. I was made in India, nurtured in India and "grew up" in the US. I 'got off the boat' 15 years ago for higher education. I received an MBA and an MRS … and yes, a an American wife. Clarity might be warranted – she is white … not Native American Indian, not Asian American Indian or as some like to say, Indian American. She has traveled to over 25 countries and speaks six languages. This provides an incredible opportunity to observe countries and ask dumb questions to continuously unlearn and learn. As you can imagine, now as a serial entrepreneur doing startups in Silicon Valley, this ingrained love for change and to adapt comes a "little" handy.
As you can now guess, I am extremely pleased with Narendra Modi's global travels. I have learnt personally, one often learns more about oneself (and home) when you leave it. You get to 'experience different'. You get to 'question different'. And you get to 'think different' and which I hope leads to the conclusion that we are all different yet all the same.
Rabindranath Tagore, also an avid traveler, visited 30 countries across five continents between 1878 and 1932. Those travels enabled him to embrace freedom of the individual and to be against walls that divide man against man and be independent of borders.
I vividly remember living across India due to my father's job in a nationalised bank. During his illustrious career, this Gujarati family lived in Hong Kong, Bihar, West Bengal, Odisha and Chennai, picked up a few languages, Bengali names for all and provided an incredible understanding and comfort of the rich diversities of India. I give all credit to those travels and experiences to where and how I chose to live today. Today, that same family is global – my brother, a doctor and who grew up in Hong Kong, lives in Scotland and travels to far corners of the world every year.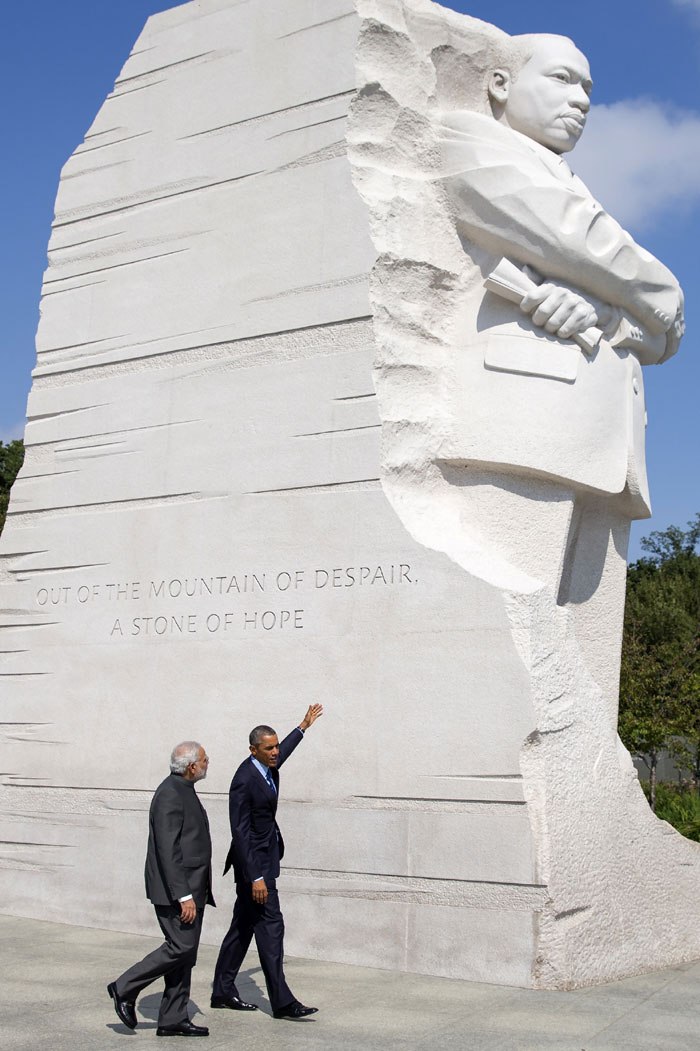 Today, it would be hard pressed to find someone who does not see us all on a global platform, which supports economic, political and cultural dominoes that connect us, independent of where we live. Furthermore, we are all mobile. According to the UNWTO, 1.14B, almost the equivalent of the population of India, traveled abroad in 2014 – an increase of 4.7% from the prior year.
You want to attract investments for Make in India, but you also want to support global sales of those products. Recently, Micromax, the leading smartphone manufacturer in India and committed to Make in India, announced their plans to sell in China next year. Modi is doing an unprecedented job with sales for those businesses as India's Chief Revenue Officer.   
One thing I would like to see more with Narendra Modi's trips (anywhere) is inclusion – inclusion of the locals and their culture. If America, I would reach out to American small businesses (other than just those with Indian origins). Like India and cricket, America loves sports – why not go to a baseball game? Maybe even try an opening pitch?
Even more inclusive – an all star baseball game with cricket stars! [Yes, taken right out of Tim Cook's India visit handbook. As the CEO of a global company, he did everything local – Bollywood, Cricket and Religion.]
Plan a trip during an Indian cultural event, say Holi – invite the local Americans and let them experience the colors that make it so unique and so India. (No colored water balloons, please)
On his trip last year, Narendra Modi announced direct Air India flights from San Francisco to Delhi, a much needed 'bridge'. Similarly, since students are our future – how about opening the floodgates for international internship opportunities in India for the next generation of Americans?
As a parent of interracial children, I often ask my children – "Imagine there's no countries".