Shat Putravati Bhava, goes the traditional blessing to married women – 'may you be the mother of a hundred sons'.
Personally speaking, giving birth to a hundred sons seems more of a curse than a blessing, despite the advancements in epidurals. But even as birthing techniques have advanced, the notion of 'what' needs to be birthed continues to be rooted in the dark ages: India still wants the boys. We are a land of diversity – the Punjabis have their butter chicken, the Gujaratis have their dal-bhat, the Maharashtrians dig into pav bhaji – but even though Indians are regional in their their taste, across the country, we only seem to want sons at our dining tables.
For years, we have pretended that female foeticide is a village occurrence – perhaps in the far-flung districts of Haryana, Rajasthan and Maharashtra – far removed from the civilised urbanity of Mumbai and Delhi. Over our morning coffee, we read with disdain newspaper stories about newborn girls being born to die, abandoned in lonely sugarcane fields. We wonder aloud how villagers justify themselves by saying that their sons make better farm hands to look after the crop and cattle. But are those really just village tales? In cities, where crop and cattle are replaced by kothis and cash, aren't our educated families also guilty of a similar feudal mentality?
Unfortunately, the latest census data reveals that this is the case. While India's urban population is choosing to have smaller families (the norm is now two children), the data reveals that in families with two children, one-third have both boys while just one-sixth have both girls. In the past, families may have chosen to keep having children until a boy is born but with medical advancements, they are now simply choosing to conceive and deliver boys. The government has attempted to clamp down on this sex determination; as part of the Pre-Conception and Pre-Natal Diagnostic Techniques Act (PCPNDT Act), every ultrasound clinic and hospitals in every city has posted bulletins saying that they do not carry out prenatal sex determination and are not authorised to determine gender during pregnancy. But with the right amount of cash, the Act is quickly and quietly forgotten. And, for those who are willing to spend some more, there is the option of a quick plane ride to Bangkok where you pay your way to a boy in anonymity. After all, this is not something one discloses in a polite society.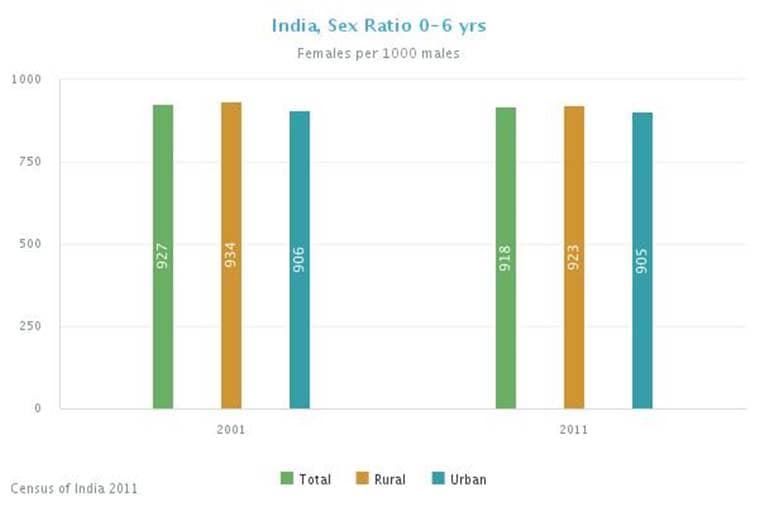 Between abandoning infant girls in fields and not allowing them to be born at all, the new census data reveals that India's gender ratio has hit a new low: for every 1000 boys that are born in India, only 918 girls are born (this is down from 927 girls in 2011). And this sort of gender skew has devastating effects; soaring crime rates (established research shows that districts with more men have higher crime rates), and new studies that suggest that our preference for boys is creating a nation of short people. Perhaps the only silver lining in this dark cloud is the lack of girls in certain parts of the country is promoting national integration: Haryanvi grooms are 'importing' brides from Kerala because there aren't enough women in their state.
It's shocking that we are not investing in girls despite clear evidence that women can pull their weight; currently several of our top banks – SBI, ICICI, Axis Bank, HSBC India and JP Morgan India – are all led by women. If India is to attain superpower status, we need to have more powerful women like them who can be equal participants in the effort. But women cannot be empowered if they aren't born. As a society, we seem to understand that female forms are capable of so much – Laxmi gives us roti and kapda while Saraswatis bestows knowledge – we pray to them even as we insist that our crops and cattle, our kothis and cash cannot be managed by our daughters.
I'm not saying that it needs to be Shat Putri Bhava but can't we settle for 50-50?
📣 The Indian Express is now on Telegram. Click here to join our channel (@indianexpress) and stay updated with the latest headlines
For all the latest Blogs News, download Indian Express App.