Updated: December 14, 2015 12:18:32 pm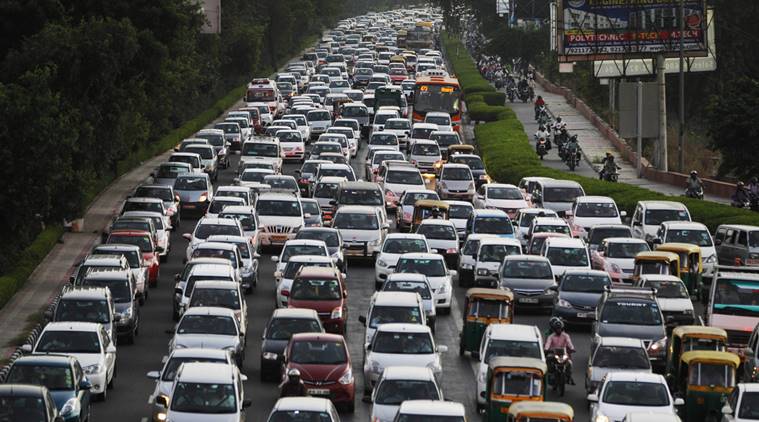 By Dr Usha Mohan Das
The WHO had conducted a study and collected average PM2.5 level for 1600 cities across the world in 2014 including 124 cities from India. The study found out that Delhi, which is the fifth-most populated metropolis in the world, had the worst air quality.
To stem the dangerously high levels of pollution in the national capital, the Delhi AAP government last week decided that private vehicles with odd and even registration numbers will ply on odd and even dates, respectively, from January 1, for two weeks. Come January 1st, cars with numbers ending with 1,3,5, 7 and 9 will operate. On January 2, cars with numbers ending with 0, 2, 4, 6, 8 will be allowed to ply.
One of the main criticisms of the odd-even formula has been the lack of adequate number of public vehicles that can accommodate those who will not be able to use their vehicles on alternate days starting January 1.
Some facts and figures:
* The road length in Delhi has increased at the rate of 4.53% per year, which, of course, is not in pace with the growing population. It is reported that the road density in Delhi is around 155 km per 100,000 populations and about 80 vehicles per km.
* According to the WHO, air pollution is the fifth largest killer in India.
* Carbon monoxide (CO), a dangerous gas emission, is around 6,000 microgram per cubic metre in Delhi, which is much above the safe level of 2,000 microgram per cubic metre.
* According to the Ministry of Earth Sciences, Delhi's air quality index (AQI) is 121, which is described as "poor." The AQI is an index for reporting daily air quality, about how clean or polluted the air is.
Let's conveniently blame Ambient Air Pollution (AAP) –Ah did I say AAP!…now was that rather odd?
The Delhi government said it will double the fleet of buses during the 15-day trial period, the government has also asked the Delhi Metro to increase the frequency of trains, allow auto drivers to work for longer hours and has contacted the railways to streamline the ring railway services during this period. Excuse me! vacation for schools?
The odd-even rule will be tested for a two-week period starting January 1, Violators could end up shelling in up to Rs 2,000/- or more. Seeking to ensure maximum compliance, the Delhi government is considering the extension of a provision of the Motor Vehicles Act that currently applies to commercial vehicles to private ones during the fortnight in order to make this possible.
Without determining the real source of pollution, Delhi government taking this hasty and badly researched action is nothing but arbitrary to at large extent the scheme reeks of a conflict of interest. Delhi's air will remain the poison that it always was!
The real culprit is not the odd and even numbered vehicles, but the highly toxic diesel.
Video: Gopal Rai & Satyendra Jain Speak On The Odd-Even Scheme To Combat Delhi Pollution

We all know that drinking alcohol can result in permanent brain and liver damage, serious mental health problems and alcohol dependence. So do we end up fining the alcoholic or issuing challans?A better solution in this case will be to ban alcohol!
I quote Manish Sisodia who during the budget speech said "A developed country is not a place where the poor have cars. It's where the rich use public transport"– paraphrased from Enrique Penalosa. Further stated in the budget, that:
* Government will procure about 1380 semi low floor buses, 500 mini buses under DTC and around 1000 more buses under Cluster scheme will be deployed by the end of 2016.
* About 5500 new auto permits are being released for plying in the NCR
* The six corridors in Phase-III Metro project has a plan for expansion of 117.57 Km of Metro Rail network in Delhi. Two corridors of Phase-III in Delhi are likely to be completed in the current financial year.
Transport Minister Gopal Rai, after the odd/even announcement, said 4,000 private contract CNG buses and 2,000 CNG school buses will be added to the existing fleet of 6,000 DTC and cluster buses.
More confusion, more complication! Hardly any solution to the pollution!
What will be the result of additional buses? Their emissions are in fact much more than cars. It was surprising to note a keen supporter for this odd scheme. Former environment minister Jairam Ramesh, called it a "step forward". He said "In India, there are always 10 problems for every solution." And believes that this step would drastically reduce pollution in Delhi.
Is he missing out on the woods for the trees? Odd that he should be so optimistic about something so poorly researched and ordered in haste!
Where are the Mohalla committees? What happened to the public participation in all decision making? The Delhi government agrees they cannot improve the public transport system overnight. It seems that the Delhi government is working on a system where you need to create one more problem to stay away from the other.
Unlike what most of the people believe the new cars do not pollute as much. If you want to really curb the pollution the major offenders are:
* Old buses and trucks
* Diesel tempos and generators running during lack of power
* Thermal power plants
* Diesel machinery at construction work
What should the government do?
The government should make an announcement of a ban on or the phasing out of Diesel in city petrol pumps from January 01, 2016.
Secondly, no other state diesel run diesel vehicle must be allowed to enter the Delhi state between 0500 hours to 2355 hours from January 01, 2016.
The government needs to implement integrated policies for factories and small-scale units by providing well serviced sites for re-establishing small factories.
Precise and well-accessible land records should be maintained so that no illegal constructions or expansion of factories can take place.
Corrupt practices in bureaucracy and short-term policies in the government still exist, which need to be stopped immediately.
Long term decisions need to be piloted after due deliberation, debate and then implemented and not tried as an experiment as it adds to an existing problem.
Odd/Even is nothing but another random publicity stunt by Kejriwal for Kejriwal of Kejriwal.
He will implement this new year gift and ask some random agency or NGO to do some random survey on air quality in 15 days' time and then shout from the top of his bungalow that the experiment has been a huge success!
After all, this is the same man who keeps talking about his 49 days' stint as a successful one!
Odd right? Or must I say getting even?
Professor Dr Ushy Mohan Das is a doctor by profession and an academic by passion. An avid writer, a transformation coach and a crusader, she believes the common man must speak up for what is right.
📣 The Indian Express is now on Telegram. Click here to join our channel (@indianexpress) and stay updated with the latest headlines
For all the latest Blogs News, download Indian Express App.