Written by
Liz Mathew
| New Delhi |
Updated: June 8, 2018 4:15:22 pm
At the end of Pranab Mukherjee's speech at the RSS headquarters which came after a week-long debate and suspense over the surprise element in his visit to Nagpur, it is definitely advantage RSS. With his lecture on "the concepts of Nation, Nationalism, and patriotism in the context of India that is Bharat", Dada had his way and silenced the critics, especially those in his parental party who did not even wait to listen to what he was going to say.
But the former Congress veteran's gain is nothing as compared to what has been taken away by the RSS after the speech. The Sangh wouldn't have received this much attention – including the hours-long live coverage – to its programme and speech of Mohan Bhagwat even if the invitee was President Ram Nath Kovind. When the Sangh invited one of the most respected leaders of the Congress party that had always attacked, criticised, accused it of fueling communal violence in the country, kept it as an untouchable organisation and even banned it, the RSS would have had many things in mind and one would know only later if it had achieved its objectives. But one thing is clear – now that it has hosted Pranab Mukherjee at its home, the BJP's ideological parent has taken a major step in its bids to transform its image from being a bunch of right-wing fundamentalists to the country's largest social organisation, in its journey from being a Hindu extremist outfits to a mainstream volunteer organisation.
Read | Full text: Pranab Mukherjee's address at RSS headquarters in Nagpur
RSS leaders are quite aware of the fact that despite their intense effort to convince the Hindus in India that it stands for the Hindu values, a large section in the community including the opinion makers and intellectuals, still look at it with suspicion. It is conscious of the fact it has its limitation to growing as a monolithic organisation that represents the entire Hindu population– at least majority of them – with its current image.
It also knows that with this image, it will not be able to gain much more for its political wing, the BJP at the electoral front. With the current image, RSS will not be able to win the hearts of most of the practicing Hindu, who takes pride in India's ethos, principles, and values and consider Constitution as "Magna-Carta of socio-economic transformation of the country." Liberal may have been made an abusive word by some right-wing extremists, but the RSS wants the Hindu liberals also to accept it.
The BJP coming to power at the centre with a majority on its own in the Lok Sabha had been described as achieving the objective of creating an invincible Hindu society with the installation of a regime that believed Hindu Swabhiman 800 years after the defeat of Delhi ruler Prithivraj Chouhan by Muslim invaders.
Now, with the BJP preparing for the next big electoral test – a battle that is crucial for fulfilling its mission of Hindu revivalism and transformation of the Hindus, the RSS, as always, launched its campaign for the BJP. It has belittled its critics and the Congress by projecting itself as an open-to-different idea and ready-to-listen-to criticism organisation – a superb beginning for the 2019 campaign.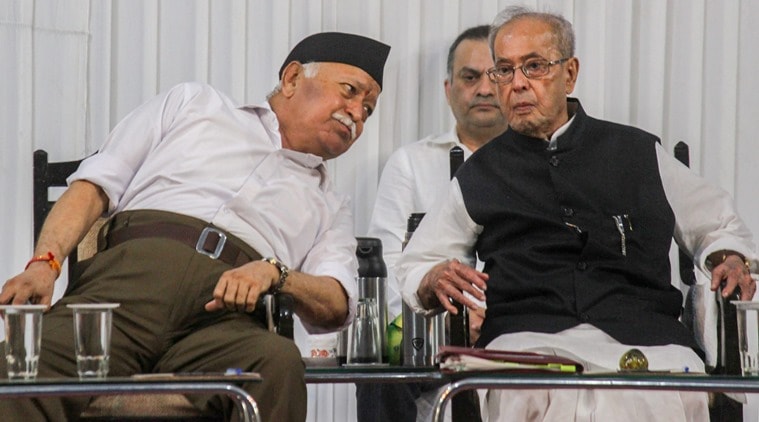 Inviting a former President who lived his life as a Congressman was not the first step it has taken to shed its image as conservative, orthodox, extremist Hindu upper caste group. Over the recent years, it has taken a number of measures to transform its image – the steps have indicated that it is no longer a "disinterested commentator of Indian society."
In March 2016, two years after the BJP came into power, senior RSS leader Dattatreya Hosabole had said that homosexuality was not a crime. Although he had later clarified it as a "socially immoral act" but added that it should be treated as "psychological case." His statement had led to more voices coming out from the right wing backing decriminalisation of gay sex, which indicated a major shift in the 1925-born RSS' stance on the controversial issue. " BJP general secretary Ram Madhav who was the spokesperson of RSS before his stint in the BJP was quick to add. "What Dattatreyaji said is very clear. Decriminalisation (of gay sex), yes! Glorification, No!". This came at a time when the BJP was deeply divided over the issue with a section led by Finance Minister Arun Jaitley advocated for de-criminalizing consensual sex among gay adults, others like Home Minister Rajnath Singh took up a harsh stand saying BJP cannot support ""unnatural" homosexuality.
Read | Need to unite even if views are different, says RSS Chief Mohan Bhagwat
In the same year, it had decided to drop brown flared shorts they wear as a uniform. The move to change from the shorts to brown trousers, its leaders said, was to reflect the changes in the dressing preferences in the society. But it was more to do with shedding its image as rigid and to show that it is moving with the times in order to attract more people, especially the young males, who used to complain of being teased for their uniform, to the organisation.
Immediately after the BJP came into power, the RSS, always known as a Hindu upper caste organisation, had told its volunteers across the country to reach out to Dalits by adopting a Dalit family. The Akhil Bharatiya Pratinidhi Sabha meet of the RSS in 2015 ended with a resolve to transcend caste divisions in Hindu society. In that meeting, V Bhagaiah, belonging to Vadla community, an OBC, was appointed as joint general secretary of the organisation. It also had decided to work for the culture of one temple, one well and one funeral ground among the Hindu community.
Read | From disquiet to relief: Congress says Pranab Mukherjee showed RSS the mirror
The current Sarsanghchalak Mohan Bhagwat had also instructed affiliates to enroll and appoint more women as office bearers. In the Akhil Bharatiya Pratinidhi Sabha in Rajasthan, then national secretary Bhaiyyaji Joshi talked about the entry of women in temples across the country and its annual report has mentioned it as an "unfair" practice, signaling another shift in its stand.
So, inviting Mukherjee could have been one of those steps the RSS has taken to change its image to gain wider acceptance – which in turn will help the BJP to sustain its growth.
The Indian Express website has been rated GREEN for its credibility and trustworthiness by Newsguard, a global service that rates news sources for their journalistic standards.