Location : Narkanda, Himachal Pradesh
Route: New Delhi – Ambala – Kalka – Shimla – Narkanda
Distance : 425km (one-way)
Vehicle : Mahindra XUV5OO W8 AWD
One of the season's last snowfalls was just around the corner and being the Himalayan addicts that we are, it was evident that a snow trip to the heart of Himachal Pradesh would happen by end of February 2015. Having just bought an all-wheel drive XUV5OO a couple of months back, this trip would also serve as the perfect platform to gauge the vehicle's performance.
Day 1, 20th Feb'15: New Delhi to Narkanda
The plan was to leave New Delhi as early as possible and cross Shimla well before afternoon in order to have ample time for exploring snowed out roads. Being a working day, traffic was sparse and by 7:30am, we had crossed the famous Karnal bypass on the outskirts of Delhi. The XUV's cruise control was utilized to the max and soon we were cruising at an indicated 95km/h while at the same time were keeping an eye out for patrol cars that usually catch you unaware if you are doing over (true speed) 90km/h.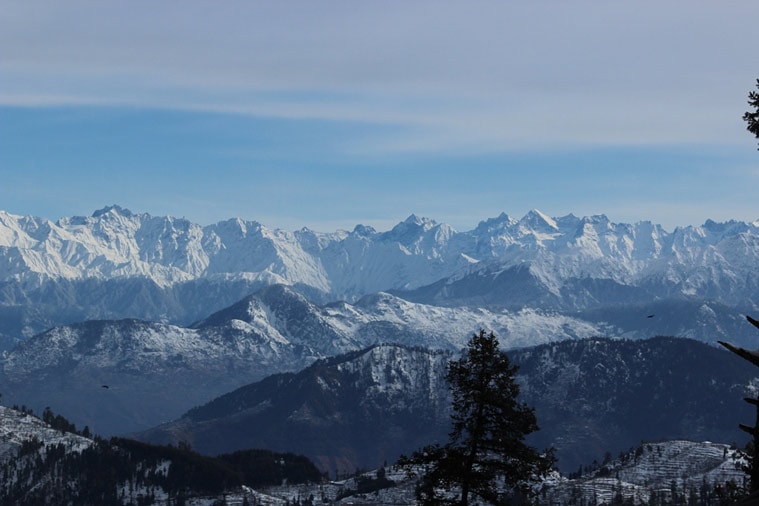 Two hours into the drive and as we were crossing Karnal, rain gods became our companion and we were confident of experiencing fresh snowfall later in the evening. Post Karnal is when we took our first quick break and thanks to numerous eating joints (ranging from Dhabas to the best fast food joints), we were spoilt for choices. Forty-five minutes later, we were back on the road, aiming to bypass Chandigarh and hit the scenic Himalayan Expressway in the next two hours. Post Ambala, we left NH-1 and took NH-22 that would lead us to our night destination.
A few km before Chandigarh is where you take a right and join the Himalayan Expressway. This four lane toll highway makes you bypass Kalka and helps you join NH22 at Pinjore. This is also where the XUV experienced its first set of mountain roads.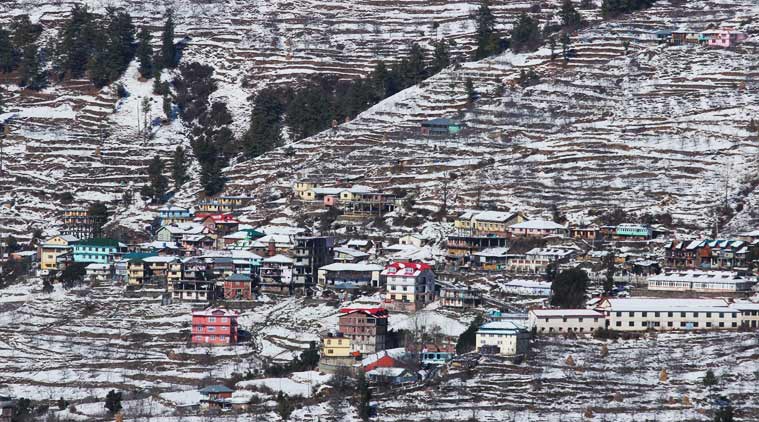 Rains had by now settled down to light drizzle and the outside temperature hovered around 12 degrees. It was 12 noon and we started looking out for a secluded place to take a break. Turned out that 20-25mins into the hill journey and we came across a small café named "Stag". This was made around a hair-pin with enough parking space and a view of the valley that left us with a smile on our faces.
A maggi and cup of coffee later, we were back on the road, aiming to cross Shimla by 2:30pm. The traffic was still sparse and thankfully, the roads around Shimla city didn't pose to be a big problem for us. It was cold with an overcast sky and just when we took the Lakkar Bazaar road towards Kufri, we started seeing snow lying by the side of the road. This part of the city lies in the sun-shadow area and hence, snow doesn't melt that easily.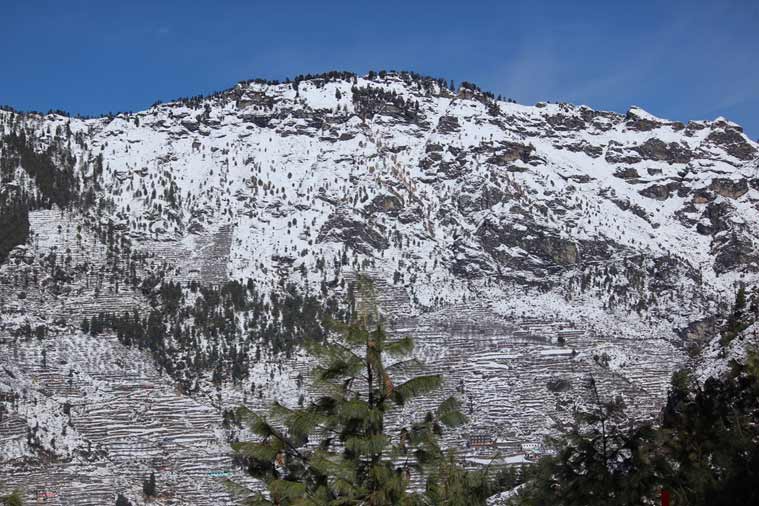 With a grin on our faces, we drove ahead and soon left the concrete jungle behind. The uphill roads to Kufri were deserted and as the elevation rose, the amount of snow by the road side increased too. However, Kufri is also a tourist paradise and this is where we faced our first major problem.
Most tourist cars were slipping and sliding in snow and we literally had to make our own way out. The XUV's automatic AWD came to the rescue and without an issue we negotiated the mess and were on the other side of Kufri, aiming to cross Fagu and Theog next.
By now, the rain had turned into sleet and with snow peaks for company, we couldn't have asked for a better setting. However, this is where we faced another issue. Commercial traffic was a big problem as trucks and buses started stopping as drivers feared that they might end up slipping or sliding on the road. Thankfully, other traffic was nil and soon we were the only vehicle on the road.
This was pure white paradise!
We picked up some supplies from Theog and were the centre of attraction in the town. The road towards Narkanda was empty and white. We kept driving at a slow pace of about 25-30km/h and were more than happy to have a host of electronics working for us, without having to worry about going off the road! We stopped for photography every few km but this also meant by the time we hit Narkanda, it was 5pm. We were the only car in town and soon, sleet turned into fresh snowfall.
Now, Narkanda is a small town with just a handful of budget hotels. The best bet is HPTDC's Hotel Hatu but this property is only accessible via a steep one km road. No problems for us and inspite of a foot of fresh snow on the road, the XUV carved its own path and impressed us with its abilities. As we drove into the parking lot of the hotel, we saw cars from other states literally stuck there, covered in snow. Later we came to know that the guests had been stuck for the past few days.
We were greeted with claps as we entered the hotel lobby and by now, snowfall had turned heavy, in turn covering the XUV with a layer of white gold.
With no electricity in the complete town, our evening was spent munching on hot bites from the hotel's café and planning our route for the next day.
Day 2 : Narkanda and around
We woke up pretty late by the standards of Narkanda. A small town, life here begins pretty early. It was only when we set our eyes outside the balcony, we realise where we were – this was heaven indeed. Everything from the chairs in the lawns to every single leaf on the trees was covered in whiteness. We ordered breakfast and decided to head out to explore link roads around the town. By 12 noon, we were ready. The XUV was given its own sweet time to warm up and just when we were leaving, a couple asked us for a lift to the main town. We obliged and drove down the narrow 1km long road to the centre of the town. We dropped the couple, took a u-turn and joined the Narkanda-Baghi road.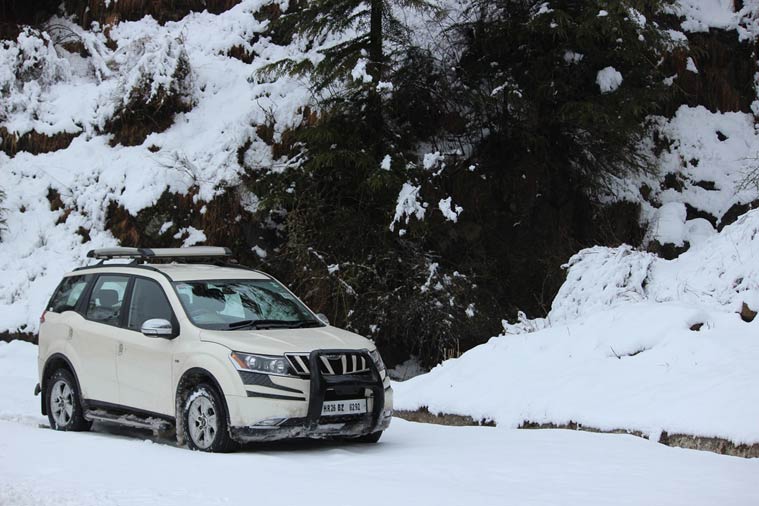 This narrow link road is devoid of civilisation. There was snow all around and it seemed a snow remover had just cleared the road in the morning. There was a good couple of feet snow around the road which in itself was becoming very slippery. The traction control light kept blinking on the console of the XUV as the electronics worked hard to keep things under control.
We soon reached the small junction where an uphill road goes to Hatu Peak which is situated at over 10000 feet above mean sea level. The narrow 6km path to the peak remains closed in winters. We parked the XUV here, opened our packed lunch, put on some music and soaked in the scenery. There was no one around and the surroundings seemed right out of a child's fairy-tale book.  Every now and then, a slight breeze would send snowflakes flying off from branches onto our faces. This was surreal.
We proceeded ahead but soon there was simply too much snow on the road. A U-turn on such a stretch would be a nightmare and so at the next turn, we decided to head back. The XUV, inspite of riding on stock highway tyres with no snow chains was performing beyond our expectations. We spent the next couple of hours driving around the area aimlessly, simply enjoying the Mother Nature at its best. We made full use of the XUV's infotainment system and for number crunchers, day temperatures never went over 4 degrees!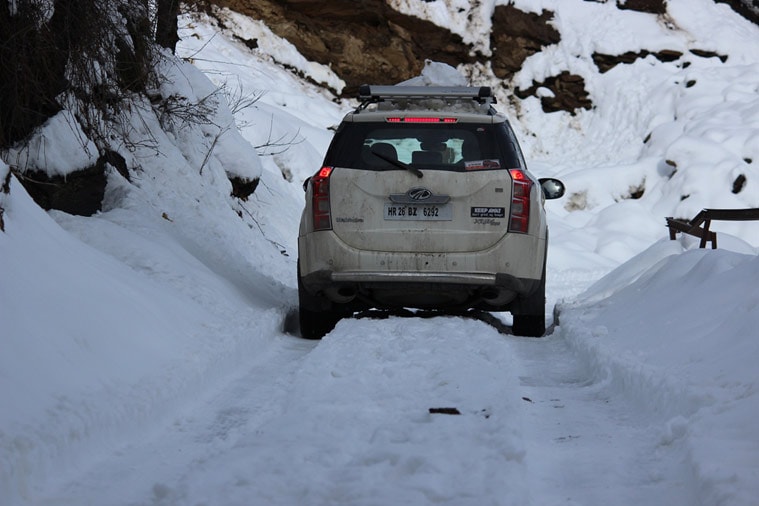 Electricity back-up was still erratic in the town. This also meant we took shelter in the warmth of the XUV with the heater making sure our bodies didn't have a reason to complaint!
Day 3  :Narkanda to New Delhi
Waking up by 9am, we were back on the highway by 11am and surprisingly were greeted by a perfect sunny weather. Because of higher day temperatures, all the snow on the road was melting by now, thus resulting in slush and tricky driving situation. Being a Sunday, this also meant that tourist rush in Kufri and Shimla would be high and thus we decided to bypass these towns by taking a left from Theog and using the SH6 that connects to Dagshai. This is a narrow state highway but it is usually devoid of traffic and we were more than happy to drive non-stop and take the occasional break.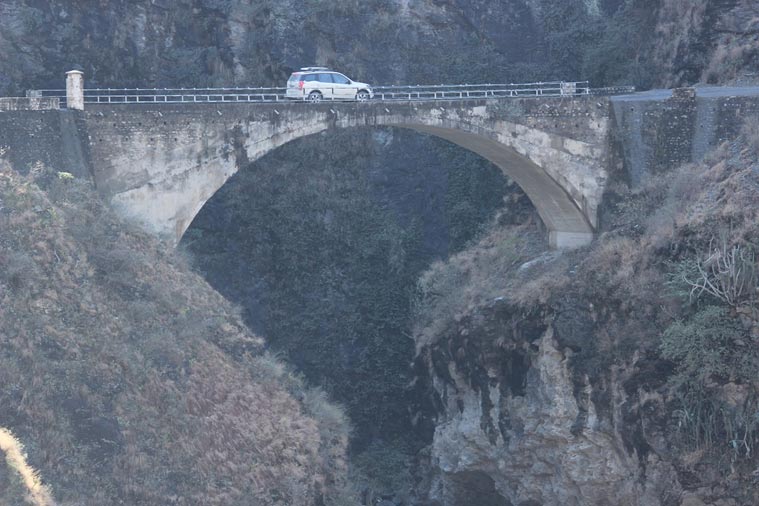 The drive back from here till Delhi was uneventful but we weren't complaining as the memories from the past couple of days were etched in our hearts forever. We had experienced the best season of Himachal Pradesh in one of the best isolated locations as well.
Powered by gaadi.com
The Indian Express website has been rated GREEN for its credibility and trustworthiness by Newsguard, a global service that rates news sources for their journalistic standards.