BMW owned British car marque Mini will drive in its new hatchback range in India on November 19, 2014. Mini will offer the new hatchback in 3-door and 5-door versions. While the 3-door version will replace the currently available car in India, the 5-door version is first of its kind and will be offered for the first time in the country. Both the cars, says Mini, are completely new and have been designed and built from scratch.
As of now, Mini only offers the 3-door hatchback across two petrol variants in India ,i.e., in Cooper and Cooper S variants. The new 3-door version will replace these models while the 5-door version will also be offered in Cooper and Cooper S variants. Although, expect the 5-door version to cost slightly more than the 3-door hatchback.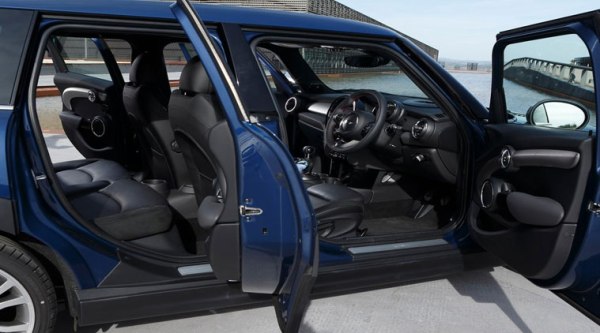 In some of the major international markets, the new Mini hatchback is offered in choice of diesel variants too, namely, Cooper D and Cooper SD variants. Considering the fact that diesel engines are a preferred choice in this segment, we expect the diesel powertrain to make it to Mini's hatchback range in India this time. Especially in the more practical 5-door version, where it will make a lot of sense from prospective buyers' point of view.
The new 3-door hatchback is claimed to have grown 98mm longer, 44mm wider and 7mm taller than its predecessor. The wheelbase is also up by 28mm in the new car. To accommodate 2 more doors in the hatchback, the 5-Door Mini on is a further 162mm longer and 11mm taller than the aforementioned 3-door Mini hatch while the wheelbase is increased by another 72mm to provide a larger cabin space. With boot space of 278 litres, which is 67 litres more than the 3-door version, practicality too has been taken due care of in the 5-door version.
Powertrain will be shared between the new 3-door and 5-door versions. Globally, both the cars are offered in a set of brand new petrol and diesel engines. In petrol variants, the Mini Cooper will feature a 138PS/220Nm producing three-cylinder 1.5-litre petrol engine, whereas, the more powerful Cooper S variant will source power from a 2.0-litre four-cylinder petrol engine that produces 192PS of power and 280Nm of torque.
The diesel models of the new Mini hatchback, if they make it to the Indian market, will comprise a 1.5-litre three-cylinder diesel engine producing 118PS/270Nm in the Cooper D; and a 2.0-litre 4-cylinder diesel generating 172PS/360Nm in the Cooper SD.
Prices of the current Mini Cooper hatchback models start from Rs 25.50 lakh and go all the way up to Rs 30.70 lakh in ex-showroom, New Delhi. The new models are likely to be placed around the same price bracket.