The BMW Motorrad (the German giant's two-wheeler division) had earlier this week unveiled a concept that it calls the Vision Next 100, to mark its centenary. This concept motorcycle, if anything, is a marriage of age-old traditions and developments in technology, officiated at the altar of utopia.
It's a motorcycle that claims to be so stable that it doesn't need a stand to stay upright even when it's at a standstill. But the staying upright part goes further, to the point where BMW Motorrad claims that it wouldn't fall over even while riding. And it's stranger even, because the motorcycle has no suspension setup.
WATCH VIDEO: BMW Motorrad VISION NEXT 100: The Motorbike Of The Future
Witchcraft and wizardry? No. BMW has developed what it calls the Flexframe, and black triangular frame that holds whole bike together, and also assists in handling. Turning the handlebar would cause the frame to flex and help the motorcycle steer – it's very flexible at standstill and lower speeds, and slightly more rigid at higher speeds, adding to the stability element. Think of it as an electronically guided, active, controlled-flexing monocoque chassis. And while BMW hasn't explained what keeps the bike upright, we suspect that a gyroscopic element is at play here. And since there's no suspension, the damping, from what  the press statement claims, would be taken care of by specially designed tyres with variable active tread.
Visually, the motorcycle borrows cues from the R32, one of the earliest and most iconic motorcycles produced by the manufacturer. It carries the signature boxer-engine design, something that BMW motorcycles have always been known for. And that's funny, because as BMW claims this concept to be a zero-emission bike, we can only assume that it's going to contain an electric motor to do all the wheel-spinning take care of the complex electronic aids on the bike. There are LED strips all over, for turn-indication, illumination, and for pleasing the eye as well. The Next 100 concept, then, is a treat for all your senses.
With all of these put together, safety et al, BMW claims that the riding experience would be so safe that the rider wouldn't need a helmet. Instead, a "smart" visor would take care of displaying the necessary information on it and would be the only headgear that would be worn.
What's wrong with it?
When designing the BMW Motorrad VISION NEXT 100, the press release claims, the team was thinking decades in advance. "Normally, when we develop a motorcycle, we tend to think 5 to 10 years in advance. On this occasion, we looked much further ahead and found the experience especially exciting. There are some very attractive prospects. I firmly believe the BMW Motorrad VISION NEXT 100 sets out a coherent future scenario for the BMW Motorrad brand," said Edgar Heinrich, Head of Design at BMW Motorrad.
That's a good thing, because none of this would work any time in the near future.
First, there's the issue of safety. BMW Motorrad has been known for offering some of the best safety features on all of its motorcycles, be it the track focused S1000RRs or the globetrotting GS1200Rs. The list includes everything from the basic ABS to complex traction control systems. It was, then, natural for many riders to do cock an eyebrow when BMW said that one wouldn't need a helmet. Any rider, worth their salt, would swear by the helmet, for it is the one thing no rider should leave behind while going out for a ride.
But for that, one has to understand that BMW might have envisaged this concept for a time when all other vehicles on the road have the same level of safety features built in, and there's absolutely no room for a crash in any way whatsoever. We're talking about a time when every car and bike would have proximity sensors built into them, guided by infra-red modules, satellites, radar, lasers and technologies that we're yet to invent. This is about an era of cars with artificial intelligence that would correct any mistake that the driver or rider is bound to make. As of now, our driverless cars are crashing.
Not wearing a helmet makes a rather bold statement – that the rider has no chance of being sideswiped, rear-ended or T-boned, that there's absolutely nothing that can go wrong. And that's a scary proposition, because the only other word that we motorcyclists know about it is called utopia. Because when something goes wrong, like a pothole that we ride over, or an errant driver who jumps a signal, we get a crash course (no pun intended) in the unshakeable laws of physics. If you get hit, you go flying over the bike and hit some surface, and get badly hurt or die.
A visor, no matter how smart you make it, would at some point might become a distraction as well. When Skully, a proposed helmet with heads-up display was announced, it was criticized for being a possible hazard for riders. The whole project was eventually scrapped.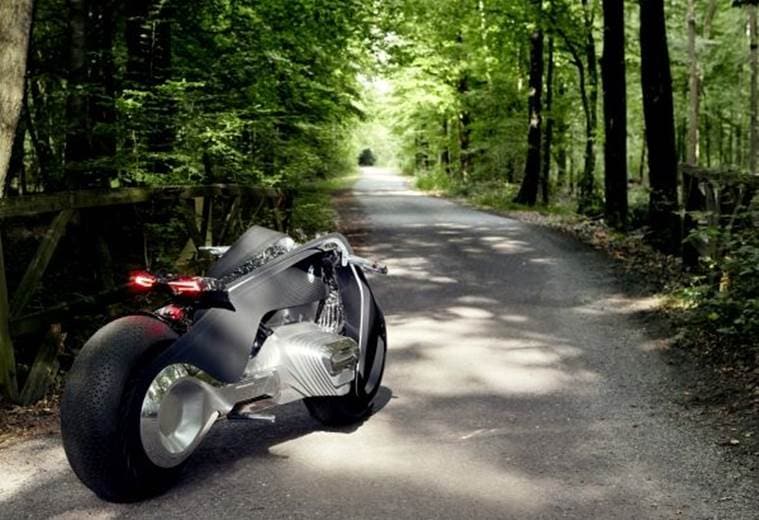 And then there's the problem with the possibility of the concept taking form of reality. As of now, all electric vehicles are powered by Lithium-ion batteries. Electric cars have the advantage here because they have the sort of real estate that's needed to carry a lot of batteries, and probably even a small powerplant to charge the batteries on the go or just get more power for the drive (the McLaren P1 and the Porsche 918 are some very extreme examples of such hybrids). Motorcycles, on the other hand, have a much smaller form factor, and there's not enough space to load them up with batteries. India's first electric bike, Tork T6X, has a range of just 100 kilometres on a single charge. Harley-Davidson's Project Livewire is still in the developmental stage, struggling to achieve a good range. The BMW Motorrad Vision Next 100 concept uses electric power not only for the drivetrain, but probably also to run all the active elements such as the Flexframe, the active tyre setup and all the smart features that would keep the bike from crashing.
There's the issue of safety with these lithium batteries as well. They've been known to catch fire in many applications, from smartphones like the Samsung Galaxy Note 7 to huge jetliners like the Boeing 787.
So it'll never work?
The bike's dangerous, the technology is limited, from where we're looking at it, there's a chance that it'll go up in flames, or be hit by either an irresponsible driver or a driverless car whose software has gone all haywire. But that doesn't mean that this technology would never work. Back in the early 1900s, when Indian Motorcycle and Harley-Davidson Motor Company were busy racing around flimsy board-tracks and dirt-tracks, we said the same thing. Later, in the mid-'60s, when the Café Racers took over the streets of England, we said the same thing. That this whole motorcycling business is dangerous (someone did call them murder-cycles) and it would never work. But it did.
The Indian Express website has been rated GREEN for its credibility and trustworthiness by Newsguard, a global service that rates news sources for their journalistic standards.