Result: 1- 8 out of 11 Article found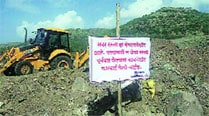 A canal that had been dug near the octroi post had not been constructed properly and the roads continued to be dotted with potholes.
In a report to the government,CWPRS has said that at present water conservation assumes great importance.
Special programme to be launched soon.
The civic body's efforts to encourage rainwater harvesting seem to be gaining momentum with as many as 3,008 buildings implementing it so far.
Noted environmentalist Sunita Narain said on Sunday that climate change and pollution will affect the hills in a bigger way and for this,Himalayan states like Himachal Pradesh should invent a new model of sustainable development.
The West Bengal government is thinking of introducing a law for a check on groundwater usage.
The Central Ground Water Authority of India has recently cleared air regarding the rules for rainwater harvesting. As per the new instructions,only rooftop water can be used for recharging the groundwater and not the water accumulated on roads.
The Delhi Jal Board's offer of a 15 per cent rebate on the water bill to government institutions and schools for initiating green measures has failed to take off.
Housing societies,five star hotels,educational and medical institutions and commercial towers will all have to soon go green or pay additional property tax.
The thin strength of 26 councillors passed an important agenda item on Friday which will prove to be beneficial for the city in the longer run and help solve the water crisis.
Himachal Chief minister Prem Kumar Dhumal caught Shimla's Mayor Narinder Kataria and Municipal Commissioner A N Sharma almost by surprise on Sunday when he asked them about the implementation of legal provisions to make rainwater harvesting mandatory in all new buildings in the hill capital.