Result: 1- 4 out of 4 Article found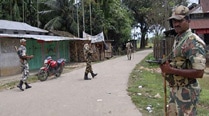 Both the explosions occurred within 500 metres from Kangla where the march past and celebrations were being held, the sources said.
PLA publicity secretary said they would carry out similar attacks in different parts of the state.
This is the first time that Manipuri insurgents have been caught in Bihar,said police officials.
The Manipur Congress finds another cause for worry ahead of the January 28 Assembly elections.