Result: 1- 5 out of 5 Article found
The Delhi High Court on Tuesday asked the Home Ministry to consider changing the existing SC/ST Act or introducing a new law to allow provisions for deterrence against alleged "racial attacks" on people from Northeast states. A bench of Chief Justice N V Ramana and Justice R S Endlaw made the observation while taking up […]
The Home Minister ordered the CBI to take up Nido Taniam death probe after the victim's family demanded the same.
Delhi Police charged the four people responsible for Nido Taniam's death with murder under section 302 (murder) of IPC.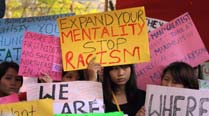 Nido's parents have said they will fight for the enactment of anti-racial law and install his statue as a symbol of anti-racism.
The High Court said that if a post-mortem takes 15 days, then other such cases will take even longer.