Result: 1- 4 out of 4 Article found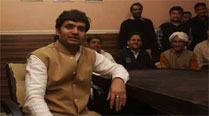 Police sources said after an hour's search, neither Neeraj Bawana nor his aides could be found.
Police sources said Neeraj Bawana,who allegedly extorted businessmen,had been granted interim bail till December 15.
Police are investigating how the money and the drugs reached the high-security prison.
After a year-long chase,the Delhi Police caught up with the alleged notorious gangster Neeraj Bawana on Monday.