Result: 1- 5 out of 5 Article found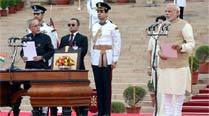 Every corner of Vadnagar was celebrating on Monday. BJP flags fluttered from doors, boondi and prasad were being distributed.
For many Indians,Narendra Modi is the man of the moment,a possible prime minister.
Agnivesh said that Modi will never become Prime Minister because of his past.
While most endorse Modi as BJP's 2014 PM candidate,Sushma uncomfortable in sharing dais.
Parsi community here showered praise on Gujarat Chief Minister Narendra Modi today with one of the high priests wishing him to become the Prime Minister and Bollywood actor Boman Irani describing him as the protector of sacred fire 'Atash Behram'.