Result: 1- 4 out of 4 Article found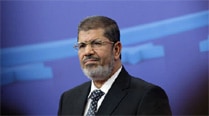 Four of the accused were present in court while the others were sentenced in absentia.
The case is rooted in the 2011 escape of more than 20,000 inmates from Egyptian prisons, including Morsi.
Trials of former leader and Brotherhood figures adjourned
The Muslim Brotherhood group,founded in 1928,came to power a year ago.