Result: 1- 8 out of 10 Article found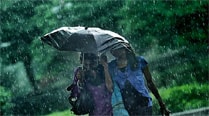 Monsoon was to hit the national capital by June 29, but has been delayed by a week.
Weather experts have predicted heavy downpours in the coming days.
When Delhiites stepped out of their homes last Friday evening,they were disappointed to find a sudden sandstorm.
The monsoon rainfall broke a 44-year-old record in Dehra Dun by registering a whopping 3018.3 mm of rainfall this season.
In some relief to the rain-battered Uttarakhand,the system that had created heavy rains in the hill state during the past few days has finally started weakening.
Haryana today released 7.44 lakh cusecs of water into Yamuna,the highest in a single day in the past 60 years…
India's south-west monsoon crucial for the country's farm output and healthy GDP growth has covered the entire country,almost 10 days ahead of schedule,the latest report from India Meteorological Department showed.
Army help was sought Tuesday in Ambala and Kurukshetra districts of Haryana…
Monsoon covers oilseed areas,rain likely in cane area; soybean planting up…
Monsoon rains in India have reached some regions of the western state of Gujarat.