Result: 1- 8 out of 12 Article found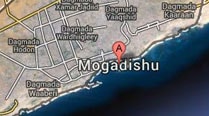 The Islamic militant group al-Shabab claimed responsibility through an announcement on its radio station.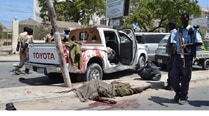 At least seven people were killed, including six attackers and one soldier who tried to stopped a suicide bomber from entering the building.
Originally the second TEDx talk in Mogadishu was to be held in June.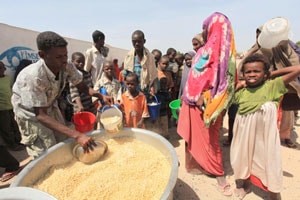 Mogadishu is host to more than 180,000 internally displaced people who have fled a killer combination of conflict,drought and hunger.
African leaders gathering in Kampala days after Somalia's Shebab carried out deadly suicide attacks in the Ugandan capital are expected this weekend to mull sending more troops to war-torn Mogadishu.
Somali pirates have hijacked a UAE-based cargo vessel taking hostage its 26 crew.
Somali pirates,who seized 11 dhows over the past 10 days,have released two boats with 26 Indians.
A medical worker says the heaviest fighting in months has killed at least 15 civilians in Somalia's capital.
Heavy fighting broke out on Thursday between rival Islamist factions in the Somali port of Kismayo,shattering a key alliance in the insurgency against the Western-backed government.
Fighting erupted between Islamist rebels,government forces and African Union peacekeepers in Somalia's capital Mogadishu ,killing at least 22 people.
Somali gunmen stormed into a Mogadishu hotel on Tuesday and kidnapped two French officials working as security advisers for the Somali government.
Washington has sent weapons to Somalia's Government after a green light from the UN Security Council…