Result: 1- 5 out of 5 Article found
Pakistan had also expelled New York Times correspondent Declan Walsh last year.
After their original visas expired, they were issued letters stating that their visa renewals were being processed.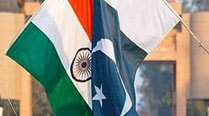 In an abrupt action Pakistan has asked the journalists to leave within seven days without assigning any reason.
Pakistan's military remains deeply suspicious of both journalists and India.
Philip and Menon went to Pakistan in August 2013 and were given visas for three months and they were renewed every three months.