Result: 1- 8 out of 13 Article found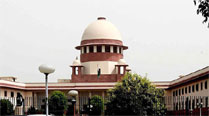 A bench of Chief Justice P Sathasivam and Justice Ranjan Gogoi sought response from the authorities within four weeks on the issue.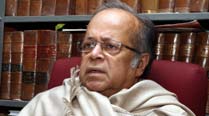 The Supreme Court declined to entertain petition seeking action against woman intern for levelling charges of sexual harassment against A K Ganguly.
Acceding to the plea,the bench fixed the hearing for the first week of December.
Tiwari replied that one of his petitions in the SC was dismissed purely because he did not address the court by those terms.
A Bench of Chief Justice of India P Sathasivam and Justice Ranjan Gogoi sought to know from the governments on how to resolve the issue.
The Ministry of Petroleum and Natural Gas,in its application,sought "clarification or modification" of the order.
Justice Gogoi had taken charge as Punjab and Haryana HC Chief Justice on February 12 last year.
To mark the platinum jubilee celebration of its existence the Prajapati Brahma Kumaris Ishwariya Vishwavidyalaya organised a cultural programme at Sector 34 mela ground today.
In a vital and rare development,a division bench of the Punjab and Haryana High Court has set aside an order of the Full Court,on the administrative side,whereby the Full Court had ordered compulsory retirement of a senior Sessions Judge from Haryana.
The Punjab and Haryana High Court will decide on April 19 the public interest litigation seeking stringent action against the officials/ authorities responsible for the delay in adjudication of the Ruchika molestation trial and promotion of SPS Rathore to the post of Haryana Director General of Police.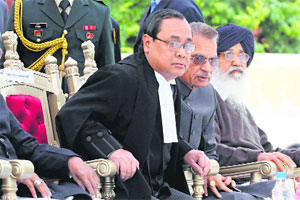 Justice Ranjan Gogoi was administered oath as the new Chief Justice of Punjab and Haryana High Court by Jagannath Pahadia,Governor of Haryana.
Justice Ranjan Gogoi of the Punjab and Haryana High Court is likely to take oath as the Chief Justice of the High Court this week.
"If you have the resources to appoint MLAs and teachers,why can you not appoint granthis?",a division bench comprising Chief Justice Mukul Mudgal and Justice Ranjan Gogoi today questioned the Punjab government.