Result: 1- 8 out of 12 Article found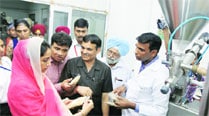 Harsimrat announced that soon a "food map" of India will be prepared.
Nanawati Panel suggested action only against Congress leaders Sajjan Kumar and Jagdish Tytler .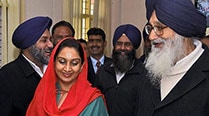 The family remained indoors the whole day in Badal village and preferred to stay away from the media.
Rahul Gandhi stayed in the House during the Question Hour and was visibly upset when Rajiv Shukla approached him for some discussions
The Congress has condemned the 'undue and extraordinary preferential treatment' given to the Shiromani Akali Dal MP Harsimrat Kaur at the cost of public exchequer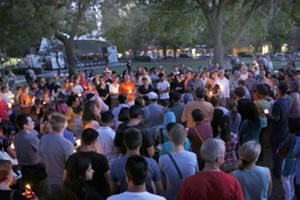 Cong says Akali Dal "baking political cake on funeral pyre" of victims.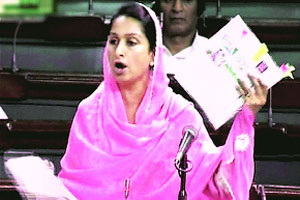 "We have ourselves given cartoonists the chance to make cartoons on us," Shariq said
A day after enjoying a ride in the Delhi Metro,Punjab Chief Minister Parkash Singh Badal left for Dubai and South Africa on vacation. His son and Deputy CM,Sukhbir Singh Badal,daughetr-in-law and Bhatinda MP,Harsimrat Kaur and their children accompanied the CM.
Baljinder Singh,the Akali Sarpanch of Daula village who is in the eye of a storm after he slapped agitating EGS teacher Varinder Kaur ahead of Bathinda MP Harsimrat Kaur's function in the village,added a new twist in the case on Thursday,saying that he "was in fact a staunch supporter of Manpreet Badal and it was Manpreet who got him elected as village sarpanch unanimously,without any elections".
As the battle of Gidderbaha picks up momentum,it is now the turn of Badal bahus or the darani-jethani to woo the voters.
Minister of State for External Affairs Preneet Kaur said the issue of screening of turban at airports has been taken up bilaterally with Italy
Over kakori kababs and dal dampukht at a private dinner hosted by Prime Minister Manmohan Singh.