Result: 1- 4 out of 4 Article found
Gurmit Singh will oversee Yahoo's business in India, responsible for its growth in the country
A day after a clash between Congress and Akali workers left Naseeb Singh Sandhu — personal assistant to Congress MLA from Guru-har-Sahai Rana Gurmit Singh Sodhi — with a bullet injury,preliminary investigations have revealed that though a clash did take place,there was no firing.
Riding on an expected bumper crop,the wheat procurement in Punjab has gained momentum with government and private agencies already procuring more than 3.65 lakh tonnes during the ongoing Rabi marketing season.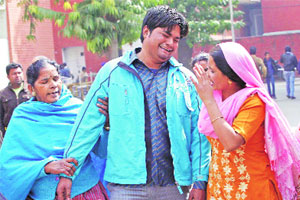 A 3-year-old girl was crushed under a car in Sector 38 on Monday morning.