Result: 1- 3 out of 3 Article found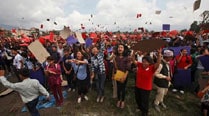 Pakistani flag currently holds the record for the world's largest human flag.
Women in thousands have begun converge in Kerala capital to perform the 'Pongala' ritual of Attukala Bhagavathy temple slated for tomorrow,one of world's largest all-woman religious event that found its way into the Guinness Book of World Record a few years back.
An Indian-origin man named Guinness Rishi has planned to get tattoos of every national flag on the planet over his entire body,in a bid to enter the Guinness Book of World Records.