Result: 1- 4 out of 4 Article found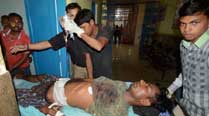 Reports claimed Deputy Commandant Indrajeet died after he allegedly received no medical help for 2 hours.
A massive manhunt has been launched to track down the attackers.
The information was being sent to Sandeep Yadav,a member of special area committee looking after operations in Bihar
He is only non-Army officer to be decorated with the 'Shaurya Chakra' this Republic Day.