Result: 1- 8 out of 8 Article found
'Attackers had come to avenge murder of RSS leader in Kerala'.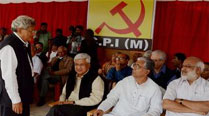 The party held a two-day brainstorming state committee session to chalk out the next course of action.
The party lashed out at the government for reducing budgetary expenditure on social sectors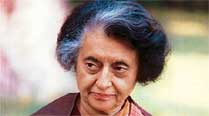 How she cannily allied with the CPI to undercut the CPM and raise her standing after the Congress split
The Communist Party of India Tuesday claimed that the Uttar Pradesh government has not been able to provide relief measures to the riots-affected people in Muzaffarnagar till now.
The Himachal Pradesh Assembly today passed a Bill pertaining to direct elections to the posts of mayor and deputy mayor for Shimla even as the Opposition BJP staged a walkout
As a young bride in Kolkata in the 1950s,Rekha Jalan was awed by the delicately-crafted pieces of silver jewellery and artifacts her in-laws would gift her regularly.
Accusing both the ruling Bharatiya Janata Party and the Congress of selling the state's vital interests to 'outsiders',the Himachal Pradesh unit of the Communist Party of India on Tuesday advised leaders of both parties to stop the blame-game over the issue