Result: 1- 4 out of 4 Article found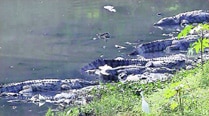 The other reason holds good for both rivers — crocodiles turn aggressive in summer when they nest on the banks.
A seven-year-old male leopard stuck in a pipe in a canal died of suffocation at Velu in Jhagadiya Taluka in Bharuch district,officials said.
A division bench of Gujarat High Court on Monday referred a civil matter related to land acquisition in Bharuch district for Torrent Energy Limited (TEL) to another division bench headed by Chief Justice while calling it a matter of public interest.
Over 5,000 hectares of land will be acquired in Bharuch district as the fourth phase of acquisition gets underway for the Dahej PCPIR (Petroleum Chemicals and Petrochemicals Investment Region),which is among three such regions in the country.