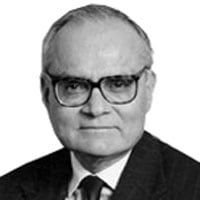 Chinmaya R Gharekhan
Mon, Jul 28, 2014
That's the only way to fight Hindu fundamentalists.
Sat, Jun 21, 2014
Let's talk of the LoC solution. And why should CBMs be consigned to the back channel?
Wed, Apr 30, 2014
The deadline for this round of peace talks has expired. Dissolving the Palestinian Authority is the best course of action for Palestinians.
Thu, Oct 24, 2013
Growing distance from the US,the US-Iran thaw,and Russia's stonewalling on Syria were the triggers for Riyadh turning down the Security Council seat.
Wed, Oct 09, 2013
Claims of nuclear weapons' ability to prevent war are exaggerated.
Tue, Aug 27, 2013
The question is whether nuclear weapons have made us more secure against potential adversaries.