Congress Vice-President Rahul Gandhi exuded confidence that the Samajwadi Party-Congress alliance he stitched with Akhilesh Yadav will taste victory in the Uttar Pradesh elections.
Talking to reporters, he said, "Our alliance is winning" before dismissing the exit polls that have projected the BJP as the single-largest party in the Hindi heartland state. He added that in Bihar too, the exit polls had wrongly predicted victory for the BJP. The Congress-RJD-JD(U) had went on to form the government in Bihar winning in 178 constituencies, pushing the BJP-led alliance to distant second place.
Watch Video |Exit Polls 2017: Survey Predicts BJP Win Ahead In UP, Congress Win In Punjab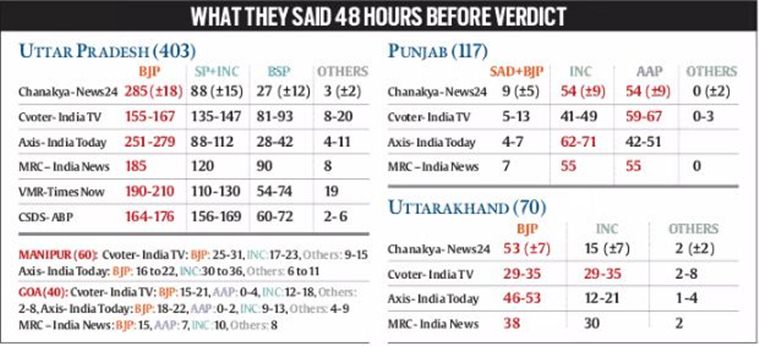 In the Uttar Pradesh election, polling for which concluded on March 8, a three-cornered contest is underway. While two polling agencies gave the BJP complete majority, four others projected the party will emerge as the single-largest party shy of the half-way mark. While the SP-Congress alliance is predicted to occupy second spot, the BSP-led by Mayawati, which has been out of power since 2012, will be pushed to a distant third position.
In Punjab, the Congress, led by Captain Amarinder Singh, is locked in a tough contest with the Aam Aadmi Party while the ruling BJP-SAD alliance has been projected to fare miserably after ten years in power.
In Uttarakhand, three out of four polls have given the BJP a simple majority in the 70-member Assembly. In Goa, two out of three polls similarly have given the BJP an advantage over the Congress.
For all the latest Elections News, download Indian Express App